Arthur Crusoe crusades to improve rural education in Liberia as key to the future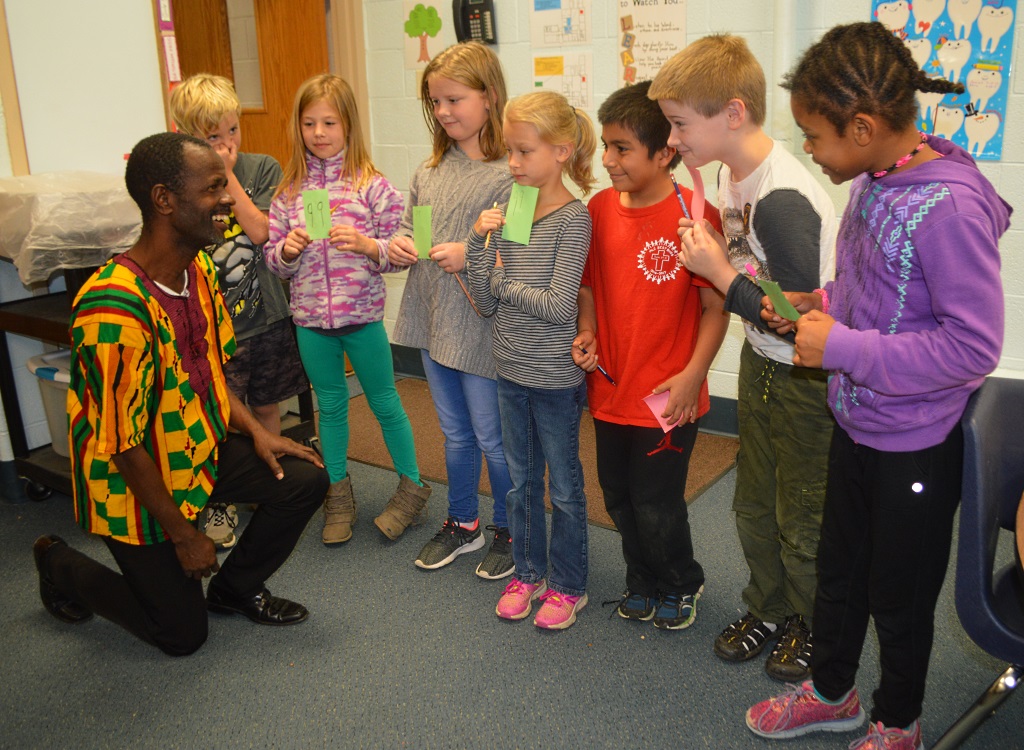 No electricity.
No running water.
Not enough desks.
Classes with incomplete sets of hand-me-down textbooks.
Despite that mountain range of obstacles and challenges, Arthur Crusoe emphasizes, "I have dreams; I have hope."
For the past week, Crusoe has been soaking in the curriculum, the concepts of education in rural Minnesota school districts. While his main base was Mountain Lake Christian (MLC), Crusoe also toured Mountain Lake Public School and Comfrey Public School, observing and visiting with the administrators in each district. He was also able to compare notes with a teacher from the Elmendorf Hutterite Colony.
Crusoe is a principal at a school in Zondo, Liberia. He is in the United States through December 2018 studying at Bethel University in St. Paul en route to completing his programming for a Master's Degree in K-12 education – with a rural emphasis.
He was one Zondo student who, after graduating ninth grade, was able to move to the city to live with family in order to complete high school, graduating in 1989. Crusoe then went on to attend African Bible College in Yekepa, Liberia, receiving his bachelor's degree in Biblical studies with an emphasis in education in 1993. He spent 12 years teaching in the city before returning to Zondo in 2005 to help build the school, and where he has been an instructor and administrator since.
As characterized by Crusoe, Zondo is indeed a rural school area. In Zondo village are 50 houses, but the school pulls in students from 33 surrounding "villages," explained as communities of five or six houses each.
While Crusoe was able to continue his education, most of the ninth grade graduates return to their villages to a life of manual labor – but – "feeling successful because they can read letters," shares Crusoe.
Crusoe's educational observations in Mountain Lake focused on, "Ideas. How concepts are taught," Crusoe explains. "We don't have all the tools as are here, but we can lead the students towards creative and successful ways of understanding the concepts of each subject.
"One dream I have is to have access to technology through electricity provided by solar," he continues. "Some people call that wishful thinking; I call that, again, hope."
About Zondo
Zondo village lies in rural Grand Bassa County, Liberia, 148 miles southeast of the nation's capital of Monrovia. It is the largest town in an area known as Gianda. Zondo is situated amid lush forest and is adjacent to a large, foreign-owned rubber plantation.
Zondo's residents belong to the Bassa tribe, and have a long history of Christian faith. Most speak the Bassa language at home, but English is the official language of Liberia and of the country's education system.
Most of those living in the area do manual labor – farming, fishing and hunting. Zondo's residents survive by growing cassava, a root vegetable widely consumed in developing countries. It provides some important nutrients and resistant starch, which may have health benefits. Cassava is better known to Americans as tapioca, the pudding favorite, that is produced from the roots of this bush-like plant. Cassava can be boiled, baked, steamed, grilled, fried, mashed or added to stews. They supplement cassava with other crops, tropical fruit such as bananas and pineapple, imported rice and producing wild palm oil. Chickens are the most common domestic animal.
Zondo has no electrical grid, no municipal sewers and no water treatment facilities. But, as is represented in the spirit Crusoe, the community has an uncrushable sense of hope, an unbreakable commitment to education and an unending desire to improve life for everyon – especially future generations.
Until 2008, going to Zondo required a river crossing in a dugout canoe and a five-mile hike through the jungle. A motor road that was built that year has allowed the community to partner with NGOs (non-government organizations) such as USAID, AmeriCares, the World Food Program – and – Family of Hope. 
About the nation of Liberia
The Liberian flag closely resembles the American flag. And there's good reason for that. The country of Liberia, surrounded by Sierra Leone, Guinea, and Ivory Coast (Côte d'Ivoire) owes its existence to an attempt to establish a United States (U. S.) colony in West Africa. Liberia's history has been deeply entwined with American history since 1822, when the first group of black U.S. immigrants landed on the African coast.
From Liberia's independence in 1847 until 1980, descendants of the U.S. immigrants served as president under a constitution modeled on the U.S. Constitution. Native Liberians, members of the 16 tribal groups who resided in Liberia prior to the arrival of the immigrants, were marginalized.
A coup by Samuel Doe in 1980 was followed by years of unrest. Doe himself was assassinated in 1990, and Charles Taylor's rise to power sparked two periods of unimaginably brutal civil war (1990-1995 and 2000-2004) that affected every person and social structure – including schools – in Liberia. Over 250,000 civilians were killed and sexual assault was a widely-used weapon. The combatants belonged to multiple factions, resulting in unpredictable, random violence. Worst of all, an estimated 75% of the combatants were children, snatched from their homes and families, frequently drugged, and forced to commit atrocities.
Liberia's recovery has been a long, slow process. Rebuilding has been hampered by massive debts, corruption, and, most recently, a massive outbreak of the deadly Ebola virus.
Education the key to unlock the future
In the face of all that, Liberians agree that education is the key to a sustainable, healthy recovery.
Missionaries of the Mid-Baptist Church founded a school in Zondo they ran from the 1930s-to-1957, with a break during World War II. Prior students, now certified teachers, then returned to run the school until the violence of the 1980s and 1990s forced the villagers to flee deeper into the bush.
There is a cotton tree that has stood in Zondo since before people lived in the area. Below it lie the tombs of two community leaders, Teacher Flahn and James Morgan. After Liberia's civil war ended, the two men championed the return of elementary and junior high education. The tree provides inspiration for the entire community.
Says Zondo school Academic Dean Bill Dean, Crusoe's brother, ""We hope that the school grows like the cotton tree."
A new school for Zondo
Family of Hope's first project was the Zondo School, known locally as the Gianda Elementary and Junior High School. Following Liberia's gruesome civil war, the original school building was uninhabitable, the partial walls held together by termite mounds
At that time, Liberia was among the five poorest countries in the world, and no government funding was available to rebuild or staff schools, particularly in rural areas.That didn't stop community elders and parents from vowing to do everything they could to return education to Zondo.
Family of Hope raised money to purchase construction materials, and area residents whole-heartedly invested their time and labor. They carried 450 bags of cement and 240 metal beams across a river and through five miles of jungle. They hand-planed hundreds of boards and hand-pressed thousands of bricks. The school opened in 2006, staffed by administrators and teachers dedicated to providing compassionate, Christian education.
Three years later, in 2009, Zondo created a girls' hostel program. In Liberia, girls are far less likely to continue their education beyond early elementary years than are boys. As they mature, girls face increasing obstacles. If the girls live at home, their families must provide food for them. However, girls who attend school are not available to help on family farms or with care for family members, so they are encouraged – or required – to drop out of school. Through the hostel program, girls live in the school building during the academic year, supported by donations of food from local residents and the World Food Program. Social worker Anna Gardour oversees the girls' education, spiritual and personal needs.
The Zondo school currently serves students in grades K-9, but another of Crusoe's dreams he hopes to make a reality is that, when he returns in late 2018, the high school is expanded through the final three grades.
Family of Hope continues to support the school by supplementing the teachers' government pay, collecting and shipping school supplies and providing teacher training.
Not for lack of trying
A segue stop Crusoe made while in Mountain Lake was at the 10,000 Villages/Care & Share store where he scooped up a majority of the recycled shoes for sale to bring back with him when he returns to Zondo.
In addition to Crusoe and Dean, a number of Zondo's "native sons and daughters" have returned to the village to help lead it onward.
It has not been for lack of trying that any steps forward have come in small increments due to a lack of funding and resources.
But, careful steps ahead have been taken, all leading in the right direction. One hundred percent of Zondo's sixth graders and ninth graders have passed West African exams over the past several years.
Crusoe want his legacy to live on through his students by, "Being able to help them love themselves; develop self-esteem; love God and their fellow man; have them see the blessings that God has given them, like natural resources, and to care for those gifts and to promote confidence in themselves and not feel inferior to others. Education can do all of that."
Crusoe notes that those wanting to support the Zondo school can donate through Family of Hope, an NGO based in Mounds View, Minnesota. The organization can be contacted at: http://www.familyofhopeinc.org