Mountain Lake Ice Rink holds Open House for fresh ice, new warming house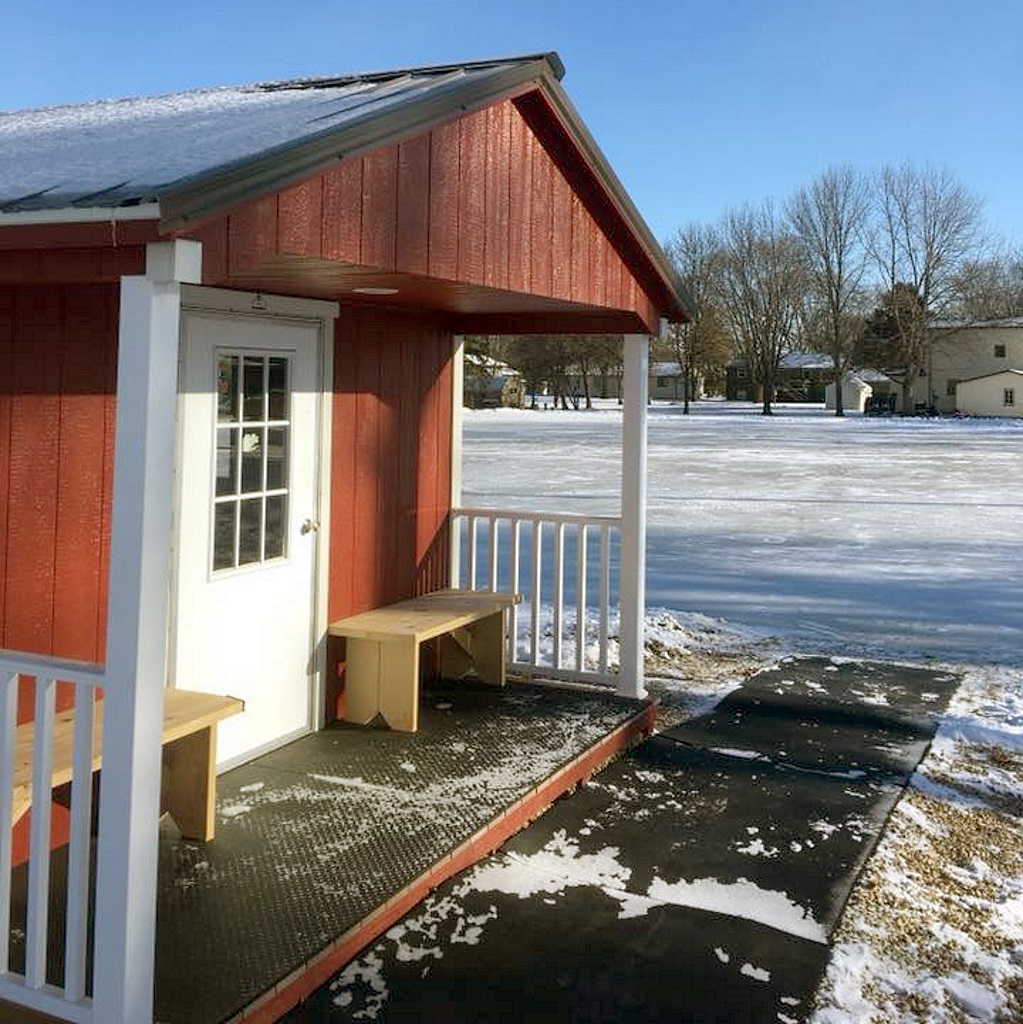 An Open House this afternoon (Saturday, January 6) at the outdoor Mountain Lake Ice Rink celebrated the fresh ice and new warming house for local skaters of all ages.
Despite a temperature of 10 degrees Fahrenheit, with a -7 degree wind chill provided by south winds at 16 miles per hour (mph) – with gusts to 24 mph – a variety of folks – from children to seniors – cut their way across the Minnesota ice with hardy gusto.
The Open House also featured (aside from the ice skating) hot chocolate, hot apple cider and homemade bars inside the warming house, along with free books for little children, courtesy of the Mountain Lake Early Childhood Initiative (ECI). The event was sponsored by Friends of the Pool, ECI, and the Mountain Lake Active Living Committee.
The new warming house was set rinkside on July 21, 2017, with the interior work completed on November 29, 2017. Friends of the Pool, using the group's fundraising reserve funds collected over the years, paid for the purchase and installation of the  10′ x 16′ Cottage Pavilion Pro Shed constructed by Elmendorf Colony of rural Mountain Lake. The addition to the rink was approved by both Mountain Lake Public School (MLPS) and the Mountain Lake City Council. The warming house is located on school district property, while the City of Mountain Lake furnishes liability insurance, electricity, necessary equipment and supervision for the rink operations.
Ken Classen, Mountain Lake Ice Rink Volunteer Supervisor, prepared the ice, along with stocking supplies for skaters, including skating stands for beginning skaters and 20+ pairs of newly-sharpened ice skates available for use at the rink.
Current warming house hours are Monday through Friday, 3 p.m. to 5:30 p.m. and Saturday and Sunday from 1 p.m. to 5 p.m.
For future ice conditions and hours of operation during the wintertime skating season, go to the Mountain Lake Ice Rink Facebook page, managed Classen, at: https://www.facebook.com/Mountain-Lake-Ice-Rink-1658247271080160/.