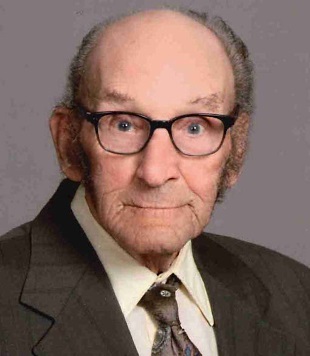 Mass of Christian Burial for 93-year-old Francis "Pat" Augustin of Sleepy Eye, Minnesota, will be held at 10:30 a.m. on Thursday morning, January 25, 2018, at Church of The Japanese Martyrs in Leavenworth, Minnesota. The church is located at 30868 Brown County Road #24.
Interment will be in the church cemetery, located at 30974 Brown County Road #24.
Visitation will be at Sturm Funeral Home-Sleep Eye Chapel from 3 p.m. to 8 p.m. on Wednesday, January 24, 2018. The funeral home is located at 301 3rd Avenue S. W. in Sleepy Eye. A second visitation will be held at the church the day of the service from 8 a.m. to 10 a.m.
Online condolences may be sent to the family at www.sturmfh.com.
Sturm Funeral Home-Sleepy Eye Chapel is handling the funeral arrangements.
Francis "Pat" Clarence Augustin passed away on Friday, January 19th 2018 at the Sleepy Eye Hospital just short of his 94th Birthday.
Pat was born on February 26, 1924 in Mulligan Township, Brown County, the son of Frank and Ella (Cady) Augustin. He attended St. Mary's Catholic School in Sleepy Eye up to eighth grade. After his schooling, he entered the United States Navy at the age of 17. He was a World War II Veteran, serving from 1942 to 1946.
Pat married Mildred Helget on August 30, 1949 at St. Mary's Church in Sleepy Eye. The couple raised six children on the home farm place in Mulligan Township. He farmed, had dairy cows and custom-shelled corn for the local area.
Pat enjoyed playing fast-pitch softball, fishing and umpiring games. In his many years of life he enjoyed cheering on his children, grandchildren and great-grandchildren in sports activities.
He was a member of the Sleepy Eye Honor Guard and a lifetime member of the Church of The Japanese Martyrs where he served as an usher for masses and funerals.
In May 2000 Pat received his GED (General Educational Development) from St. Mary's Catholic School. He was truly a man of faith and enjoyed spending time with family and friends.
Pat is survived by his wife, Mildred of Sleepy Eye; sons, Alan (Julie) of Lake Crystal, Minnesota, Dale and (special friend Gail) of rural Springfield, Minnesota, Kent (Eileen) of Comfrey, Minnesota and Mark (Monica) of Apple Valley, Minnesota; daughter, Beth (Alan) Zuhlsdorf of Sleepy Eye; son Cory's widow, Joan and (special friend Tom) of Shakopee, Minnesota; 15 grandchildren and 15 great-grandchildren.
He was preceded in death by his parents; son, Cory; brother, Donald (Sylvia) and sisters, Cyrilla (Leander) Koreis, Marie (Alton) Jensen and Germaine (Norbert) Lang.
The family of Pat Augustin wishes to thank you for your kindness and sympathy at a time when it was deeply appreciated. No individual thank yous will be sent.