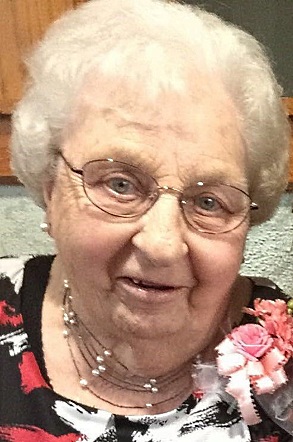 Mass of Christian burial for 90-year-old Elizabeth "Betty" Nachreiner of Sleepy Eye, Minnesota, formerly of Leavenworth, Minnesota, will be held 10:30 a.m. on Tuesday morning, December 19, 2017, at Church of the Japanese Martyrs in Leavenworth. The church is located at 30868 Brown County Road #24.
Interment will be in the church cemetery.
Visitation will be Monday, December 18, 2017, from 4 p.m. to 7 p.m. and on Tuesday, December 19, 2017, from 7:30 a.m. to 9:30 a.m., at the Sturm Funeral Home-Sleepy Eye Chapel. The funeral home is located at 301 3rd Avenue S. W.
Online condolences may be sent to the family at www.sturmfh.com.
Sturm Funeral Home-Sleepy Eye Chapel is handling the arrangements.
Elizabeth "Betty" Nachreiner passed away on Friday, December 15, 2017, at the Sleepy Eye Care Center in Sleepy Eye.
Elizabeth "Betty" Roiger was born on December 10, 1927 in Redwood County, Minnesota, the daughter of Anton and Anna (Wersal) Roiger. She grew up and attended country school through the eighth grade.
She married Leon Nachreiner on May 23, 1949 at St. Raphael's Catholic Church in Springfield, Minnesota. They farmed by Leavenworth until retiring and moving to rural Sleepy Eye.
Betty was a member of the Japanese Martyrs Catholic Church in Leavenworth and the Christian Mothers. She enjoyed fishing, baking, cooking, quilting, sewing and gardening.
She is survived by children, Duane (Jelene) of Springfield, Daniel (Linda) of Springfield, Linda (Stan) Schroepfer of Comfrey, Minnesota, Terry (Theresa) of Sleepy Eye, Paul (Gay) of Wolsey, South Dakota and Lynnae (Steve) Pelzel of Sleepy Eye; daughter-in-law, Gloria Nachreiner of Sleepy Eye; 27 grandchildren; 42 great-grandchildren two great-great-grandchildren; sisters-in-law, Adeline Roiger of Fairfax, Minnesota and Berdine Roiger of Springfield.
Preceding her in death were her parents; husband, Leon. sons, James, Patrick and Randy; a baby girl in infancy and grandsons, Dustin and Nathan.