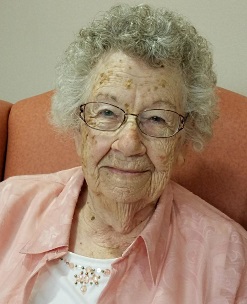 Mass of Christian Burial for 89-year-old Winnifred T. Mathiowetz of Sleepy Eye, Minnesota, formerly of Comfrey, Minnesota, will be held at 11 a.m. on Friday morning, November 24, 2017, at Church of the Japanese Martyrs in Leavenworth, Minnesota. The church is located at 30868 Brown County Road #24.
Interment will be in the Church of the Japanese Martyrs Catholic Cemetery, located at 30974 Brown County Road #24.
Visitation will be Thursday, November 23, 2017, from 5 p.m. to 8 p.m., at Sturm Funeral Home-Sleepy Eye Chapel. The funeral home is located at 301 3rd Avenue S. W. A second visitation will be at the church the day of the service from 9 a.m. to 11 a.m.
Online condolences may be sent to the family at: www.sturmfh.com.
Sturm Funeral Home-Sleepy Eye Chapel is handling the arrangements.
Winnifred T. Mathiowetz passed away on Sunday, November 19, 2017, at Divine Providence Home in Sleepy Eye.
Winnifred was born on December 20, 1927 in rural Mulligan Township, Brown County, the daughter of George and Rose (Prokosch) Zwaschka. She grew up and attended country school in Mulligan Township, then attended St. Paul's Catholic School in Comfrey, boarding at the school during the week. After she completed her schooling, Winnifred worked for families, assisting with housework and children.
She married Art Mathiowetz on May 3, 1948 at St. Paul's Catholic Church in Comfrey. The couple farmed in Mulligan Township and operated a seed corn and trucking business until retiring.
Following Art's death in 2003, she remained on the farm until March 2014 when she moved to Lake Villa Maria Senior Apartments in Sleepy Eye.
She was a member of the Church of the Japanese Martyrs and the Christian Mothers Society. Winnifred enjoyed Word Search books, old-time music, local and Minnesota Twins baseball and being outdoors. She loved visiting with family and friends.
Winnifred is survived by children, Linda (Dan) Weber of Wanda, Minnesota, Mike (Cheryl) Mathiowetz of Comfrey, Dale (Mary) Mathiowetz of Fox Lake, Illinois and Renae (Bruce) Lammers of New Ulm, Minnesota; grandchildren, Jeremy (Sherri) Friesen, Lindsay (Gary) Stancomb, Ryan (April) Mathiowetz, Dustin Mathiowetz, Katie (Brandon) Bretl, Josh (Tiffany) Mathiowetz, Megan (special friend Joe Dubovik) Mathiowetz; great-grandchildren, Caleb and Aubree Mathiowetz, Emily Mathiowetz, Ryder and Luca Bretl and Max Stancomb; sisters, Phyllis Mathiowetz of Hopkins, Minnesota Rita (Bob) Rivard of Eden Prairie, Minnesota and sister-in-law, Cecelia Zwaschka of Comfrey.
She was preceded in death by her parents; husband, Art; daughter, Sharon; great-grandson, Cameron Bretl; sister, Sylvia Sellner and brother, Richard Zwaschka.