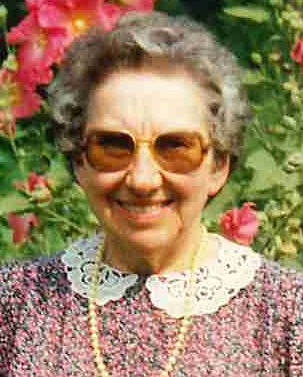 Funeral services for 101-year-old Margaret Wall of Comfrey, Minnesota, will be at 1 p.m. on Saturday afternoon, January 27, 2018, at New Hope Lutheran Church in Comfrey. The church is located at 204 Court Street South.
Burial will follow in the church cemetery, located at 29053 County Road #1 in rural Comfrey.
Visitation will be at the church on Saturday beginning at 11 a.m.
Margaret Wall passed away on Friday, January 19, 2018 at the Luther Memorial Home in Madelia, Minnesota.
Online condolences to the family may be sent to www.sturmfh.com
Arrangements are with Sturm Funeral Home-St. James Chapel.
Margaret Lucille Wall, daughter of Carl August and Emma (Sande) Wall, was born February 9, 1916, in Selma Township, Cottonwood County, rural Comfrey, Minnesota. She was baptized and confirmed at Faith Lutheran Church in Comfrey and nurtured by the Word of God and the prayers of her family, faithful pastors, Sunday School teachers, and friends at Comfrey and Pennock where the family resided for a number of years.
After graduating from Comfrey High School in 1934, Margaret attended one year of Teacher Training at the New Ulm High School in New Ulm, Minnesota. She taught in rural schools in Brown and Watonwan Counties for seven years.
A life-changing event took place in June 1936, when, upon the advice of her pastor, she attended the Minneapolis Lutheran Bible Institute's (L.B.I.) Summer Camp for a week.  There, by the grace of God, Margaret found what she had been seeking for a long time:  assurance of salvation, not through her religious life and works, but through Jesus' blood and righteousness.
In 1940-1942 she had the wonderful experience of attending L.B.I. which, with further studies at Mankato Teacher's College in Mankato, Minnesota, enabled her to accept the call for mission work in Tanzania under the Board of Foreign Missions of the Augustana Synod from 1946-1962.  From 1962-1972 Margaret earned her Bachelor of Science degree at Mankato State College in Mankato (Mankato Teacher's College became Mankato State College and today is Minnesota State University-Mankato) and taught at Lake Crystal Junior High for eight years.
In 1972 she received a call to parish work from the Evangelical Lutheran Church in Kenya through the World Mission Prayer League. Again, by God's goodness and grace, she served there until 1981, when she returned to Comfrey for retirement.
Margaret was preceded in death by her parents, Carl August and Emma Wall; her brothers and their wives, Henry and Margaret Wall, Lawrence and Edna Wall and Clarence and Vivian Wall; her nephew, Allan Wall and her grandnephew, Peter Wall.
Margaret is survived by her loving friends and family including nine nieces, Kathy Johnson (Doug), Miriam Taylor, Ginevra Hendrickson (Wayne), Mary Kalchik, Lucinda Mitchell (Mike), Virginia Gill (Tom), Eunice Berge (Don), Janet Norell (Mark) and Rebecca Moan (Jerry); and two nephews Kenneth Wall (Sonja) and David Wall (Catherine).