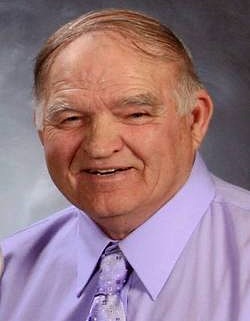 A Celebration of Life Service for 77-year-old John W. Carlson of ral Trimont, Minnesota will be be held at 1:30 p.m. on Saturday afteroon, January 27, 2018 at St. Olaf Lutheran Church in rural Odin, Minnesota with Pastor Carla  Reierson  officiating.
Burial will be in the church cemetery.
Visitation will be from 5 p.m. to 7 p.m. on Friday, January 26, 2018 at St. Olaf Lutheran Church in rural Odin and one hour prior to the services on Saturday at the church.
Messages of sympathy can be sent online to the family at www.kramerfuneralhome.com.
Kramer Family Funeral Home of Trimont is handling the arrangements.
John William Carlson passed away on Friday morning, January 19, 2018 at Ava's House in Sioux Falls, South Dakota.
John William Carlson was born November 22, 1940, the son of Bill and Opal (Johnson) Carlson on the farm at Trimont. He attended Country School #93 and then graduated from Butterfield High School in 1958. John began farming following high school and then served in the United States Army from 1962-1964. Upon his discharge he returned home to farm.
He married Shirley Hempeck on May 2, 1964, and they made their home in rural Trimont.
Four children joined John and Shirley: Barbara, Lori, Michael and Mark. John farmed, demolished and salvaged buildings, and cut and recycled scrap iron.
He served his community through various organizations and was very active at St. Olaf Lutheran Church his entire life. John loved to help others, had a very strong work ethic, and would talk to anyone; he loved to visit and build relationships with people.
John enjoyed the outdoors, fishing, hunting, arrowhead hunting and was a life-long reader. He enjoyed attending auctions throughout his life. John owned several dogs throughout his lifetime and was especially fond of his present dog, Seattle.
John is survived by his wife of 52 years, Shirley and children, Barbara Carlson and Alton Jacobson of Bricelyn, Minnesota, Lori Hope of Sioux Falls, South Dakota, Michael Carlson of Sioux Falls, Mark and Gwen Carlson of Owatonna, Minnesota and Sara and Horace Li of Hong Kong. He enjoyed and cherished his nine grandchildren, Amanda and Elizabeth Jacobson, Ellis, Simon and Bridger Hope and Tori-Anne, Paige, Madison and Dallas Carlson.  He is also survived by his brothers and sisters-in-law, Lloyd and Jean Carlson of Odin and Dennis and Virginia Carlson of Trimont; brothers-in-law, Jerry Hempeck of Butterfield, Minnesota and Stash Hempeck of Hendrum, Miinnesota. John is also survived by many nieces, nephews and close friends.
In lieu of flowers the family requests memorials to the local Habitat for Humanity or the Multiple Myeloma Research Foundation.
The family thanks all for the visits, calls, and support during this time.  Your presence has been such a gift.