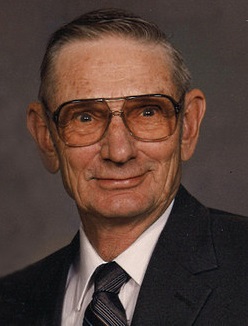 A Celebration of Life Service for 93-year-old Rudolph "Rudy" G.  Schoewe of Trimont, Minnesota will be at 10:30 a.m. on Thursday morning, December 21, 2017 at Immanuel Lutheran Church in Kimball Township, Jackson County, rural Alpha, Minnesota with Reverend Rick Bremseth officiating.
Burial will be in the church Cemetery in rural Alpha.
Visitation will be from 4 p.m. to 6 p.m. on Wednesday, December 20, 2017, at Kramer Family Funeral Home in Trimont. The funeral home is located at 71 2nd Avenue S. E. Another visitation will be at the church the day of the funeral service from 9:30 a.m. to 10:30 a.m.
Online condolences to the family may be sent to www.kramerfuneralhome.com.
Kramer Family Funeral Home of Trimont is handling the arrangements.
Rudy Schoewe passed away on Sunday morning, December 17, 2017 at Mayo Clinic Health System-Fairmont in Fairmont, Minnesota.
Rudolph "Rudy" George Schoewe was born on June 26, 1924 in Kimball Township, Jackson County, Minnesota, the son of Rudolph and Maria (Oeltjenbruns) Schoewe. Rudy attended a country school half a mile from his home.
He enjoyed hunting, fishing and trapping and continued those interests all his life. As a young man he enjoyed playing softball.
On September 12, 1943, he was united in marriage to Ruth Shewmaker at their Kimball Township home. They were married for 70 years.
He was been a life-long member of Immanuel Lutheran Church in Kimball Township. Rudy farmed the land homesteaded by his grandparents until he moved to Trimont in 1980.
Rudy was treated for chronic illnesses for many years. He attributed his long life and ability to stay active to the Department of Pulmonary Medicine at the Mayo Clinic. He remained positive and interested in his family until his last day.
He is survived by his daughter, Mary (Neal) Taylor of Osage, Minnesota; son, Loren (Sherry) Schoewe of rural Alpha; daughter-in-law, Kathleen Schoewe of Mankato, Minnesota; eight grandchildren, Jennifer (Tom) Kreel, Paula (Brent) Bergeman, Lora (Mike) Bagur, Sara (Jeff) Norstad, Troy Schoewe, Tara (Tony) Klaers, Todd (Melissa) Taylor and Ryan Taylor; great-grandchildren, Isabell Kreel, Emily and Katelynn Bergeman, Abigail and Nicholas Norstad, Brynn and Bailey Klaers and Cory and Jesse Taylor and several nieces and nephews and other relatives and friends.
Rudy was preceded in death by his parents; his wife, Ruth Schoewe on June 5, 2014; son, Charles "Butch" Schoewe and other relatives.