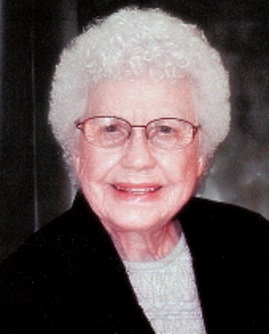 Funeral services for 94-year-old Jean C. Bolstad of Windom, Minnesota, will be held at 1:30 p.m. on Sunday, January 28, 2018, at the Assembly of God Church in Windom. The church is located at 41445 United States Highway #71.
Interment will be in Lakeview Cemetery in Windom, located at Lakeview Avenue and Cottonwood County Road #17.
Visitation will be at the church the day of the service from 12:30 p.m. to 1:30 p.m.
Online condolences may be went to www.lacannefuneralhome.com.
LaCanne Family Funeral Home of Windom is handling the arrangements.
Jean C. Bolstad passed away on Tuesday evening, January 16, 2018 at Windom Area Hospital in Windom
Jean Carrie Bolstad was born on October 8, 1923 in Sisseton, South Dakota to the late Harm Daniel and Anna (Harms) Korfe. As a preschooler, she moved with her family to Minnesota to a farm north of Windom. Jean's early education was in country school and then attending high school in Bingham Lake, Minnesota where she graduated with the Class of 1941. She then advanced her education at North Central Bible College in Minneapolis, Minnesota.
As a young person, Jean accepted the Lord Jesus Christ as her personal Savior, serving her Lord her entire life as a Sunday School teacher, Sunday School superintendent, women's ministry president and secretary, church board secretary, kitchen committee and helping with janitorial and providing music for Sunday worship.
On September 21, 1946, Jean was united in marriage to Alfred Bolstad in Windom. Two daughters blessed their marriage, Yvonne and Beverly. For three years they lived near Storden, Minnesota and for 21 years farmed in Lakeside Township, Cottonwood County, Minnesota (near Bingham Lake) until the death of her husband in 1970.
Jean then moved to Windom, and when her youngest daughter went to college, she sought employment at Fingerhut and Toro, both in Windom, so she could just "stay busy." Jean continued to live at her home on 17th Street in Windom until Friday, January 12, 2018, when she entered the Windom Area Hospital.
"Grandma Jean" as she was known by many was a loving mom, grandma and great-grandma. She trained her children to love the Lord and her love was unconditional. She loved to bake, cook, sew, mend and clean her home.
Jean is survived by a daughter, Yvonne Gerdes of Mountain Lake, Minnesota; grandchildren, Scott (Becky) Gerdes of Rochester, Minnesota, Jon (Heather) Gerdes of Mountain Lake, Paul (Kara) Gerdes of Garfield, Minnesota and James (Susan) Gerdes of Hartford, South Dakota; great-grandchildren, Nathan, Matthew, Grace, Alex, Mark, Tenley, Emma and Lilly Gerdes; brothers, Alfred "Bud" Korfe of Staples, Minnesota and Clarence (Thelma) Korfe of Clarissa, Minnesota; brother-in-law, Eldon Cole of Des Moines, Iowa and numerous nephews and nieces.
She was preceded in death by her parents; husband, Alfred Bolstad; daughter, Beverly Bolstad; son-in-law, Marvin Gerdes; great-granddaughter, Lindsey Jo Gerdes; brothers, Wesley (Margaret) Korfe, Raymond Korfe, John (Irene) Korfe; sisters, Margaret (Ben F.) Junker; Theresa (J. Harris) Riffle; Sylvia (Franklin) Selvey; Anne (Perry) Russell; Luella (Leonard) Pankratz; Irene Cole and good friend, Malcolm Satter.
Grandma Jean was deeply loved by her family and many friends.