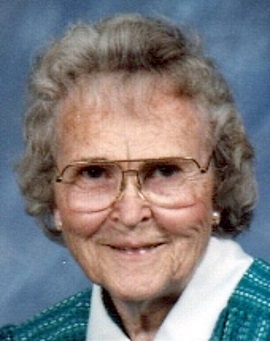 Funeral services for 101-year-old Evalyn Johnson of Windom, Minnesota, will be held at 10:30 a.m. tomorrow morning (Wednesday, January 3, 2018), at the First Baptist Church in Windom. The church is located at 450 3rd Avenue South.
Visitation will be at the church the day of the service from 9:30 a.m. to 10:30 a.m.
Online condolences may be sent to the family at www.lacannefuneralhome.com.
LaCanne Family Funeral Home of Windom is handling the funeral arrangements.
Evalyn Johnson passed away on Thursday morning, December 28, 2017, at the Good Samaritan Society-Sogge Memorial in Windom.

Frances Evalyn Johnson was born on October 17, 1916, to the late Robert Edwin and Frances Pearle (Saunders) Ledbetter in Montgomery, Alabama. She attended and graduated from Sidney Lanier High School in Montgomery. After high school, she attended Huntington College, also in Montgomery, graduating in the Class of 1938. In 1939, she traveled to Europe for the Baptist World Alliance Meeting in Zurich, Switzerland and toured six other European countries. In 1939, she graduated with a Master's Degree from Peabody Teacher's College (part of Vanderbilt University) in Nashville, Tennessee.
On December 19, 1943, she was united in marriage to Maynard E. Johnson of Albert City, Iowa, whom she met in Clarksville, Tennessee during World War II. After the war, they lived in Albert City for over 40 years, where they operated Johnson Hardware and Implement and Albert City Manufacturing Company. To this union five children were born.
As a youth, Evalyn was a member of the First Baptist Church in Montgomery. During her years in Iowa, she served her Lord at Our Savior's Lutheran Church in Albert City, and lastly at the Monticello Baptist Church in Monticello, Iowa.
Several years ago, Evalyn moved to Windom to be closer to her son, Woody and his family and enjoyed her time there.
Evalyn is survived by her five children, Woody (Tary) Johnson of Windom, Kris (Pete) Dunn of Parker, Colorado, Chuck (Michelle) Johnson of Buena Vista, Colorado, Bud (Georgia) Johnson of Monticello and Chip (Kendra) Johnson of Ripon, Wisconsin; 23 grandchildren; 19 great-grandchildren and numerous nieces and nephews.
Besides her parents, Evalyn was preceded in death by her husband, Maynard E. Johnsonn and one brother, Ed Ledbetter.