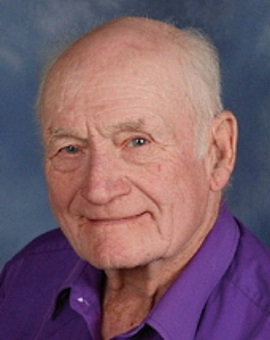 Funeral services for 94-year-old Lyle F. Bennett of Windom, Minnesota, will be at 10:30 a.m. on Tuesday morning, November 21, 2017, at First Baptist Church in Windom. The church is located at 450 3rd Avenue South.
Visitation will be at the church on Monday, November 20, 2017, from 5 p.m. to 8 p.m., and again on the day of the service from 9:30 a.m. to 10:30 a.m.
Lyle Bennett passed away peacefully on Friday, November 17, 2017, at the Good Samaritan Society-Sogge Memorial in Windom.
Online condolences may be sent to the family at: www.lacannefuneralhome.com.
LaCanne Family Funeral Home of Windom is handling the funeral arrangements.
Lyle F. Bennett was born on April 2, 1923, in Martin County, Minnesota, the son of the late Roy Austin and Ida Pearl (McDonald) Bennett. He received his early education from District #67 in Jackson County and later graduated from Windom High School in the Class of 1941.
On February 24, 1956, Lyle was united in marriage Lillian Baerg at the First Baptist Church in Windom. She passed away on December 23, 1997. On September 6, 1998, Lyle was united in marriage to Ruby Winters at the Carson Mennonite Brethren Church in Delft, Minnesota. Ruby passed away on September 14, 2000. On January 9, 2002, Lyle united in marriage with Ann Marie Schuler. She passed away in November 2015.
Through the years, Lyle lived in rural Martin and Jackson Counties until moving to rural Windom in 1956. Lyle was a farmer and trucker for many years until retiring in 2013. He really enjoyed both occupations.
On July 1, 2016, he became a resident of the Good Samaritan Society-Sogge Memorial in Windom.
Lyle was a member of the First Baptist Church in Windom, where he served as an usher for many years.
Lyle is survived by his six children, Gary (Barbara) Bennett of Kigali, Rwanda, Carol (Kevin) Schumann of Taylors Falls, Minnesota, Craig (Diane) Bennett of Bingham Lake, Minnesota, Randy (Amy) Bennett of North Aurora, Illinois, Bruce (Rhonda) Bennett of Windom and Brian (Penny) Bennett of Valley Springs, South Dakota; 15 grandchildren, Megan, Melissa, Jana, Jason, Kara, Colin, Tyler, Brittany, Sarah, Luke, Samantha, Nate, Riley, Grace and Zachary; three great-grandchildren; brothers and sisters, Wayne (Lucy) Bennett of Windom, Orlo (Ruby) Bennett of Lakefield, Minnesota, Adella (Alan) Espelien of St. Cloud, Minnesota, Ray Bennett of New Brighton, Minnesota, Phyllis (Fred) Buck of Denver, Colorado and Margaret Greig of San Jose, California and many nieces and nephews.
Lyle was preceded in death by his parents; three wives, Lillian, Ruby and Ann; five brothers, Roy Jr., Chester, Warren, Glen and Earle; two sisters, Veva and Willa and one sister-in-law, Elisabeth Bennett.