By Jack Lepp, Reporter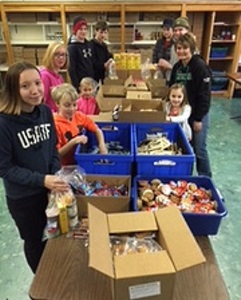 The Speedway Builders 4-H Club met on Sunday, November 19. Reports were given by members who attended various meetings and community service activities since the club last met.
The club decided to donate the remaining fleece blankets made last spring to Emergency Services (EMS), Human Services and Grandma's Attic.
In addition, club members donated five bags of coats, hats,
mittens and snow pants to "Bundle Me Warm"
On Saturday, December 9, the 4-Hers were set to pack food bags for the Watonwan County Backpack Program.
Shelia Pierson, 4-H parent, presented information on the Veterans' Memorial planned for the city park in Butterfield. The club decided to donate up to $1,000 in matching funds for
any donations made to the Veterans' Memorial by individuals or groups.
Under new business, the junior leaders presented their ideas for future community service projects.
The club is planning to go ice-skating for its January meeting, and will be inviting other 4-H members in Watonwan and Cottonwood Counties.
Club members decided to help volunteer to help with the Butterfield Christmas party on Sunday, December 10.
The club members divided up the tasks for the senior citizen "goodie bags" for the club's December meeting.
Members were given reminders about upcoming activities, meetings and trainings.
Three members gave demonstrations: Ryan Blomgren – "How to Process a Deer," Sara Quiring – "Storytelling" and Destiny Bolte – "Fluffy Slime."
The Lepp family served supper.