Pack, deliver 60+ goodie bags to Butterfield area senior citizens
By Jack Lepp, Reporter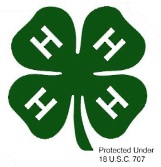 The December meeting of the Speedway Builders 4-H Club began with the assembly of senior citizen goodie bags. Members delivered over 60 goodie bags to senior citizens in the Butterfield area. Members signed a "Thank You" card to Marilyn Stoesz for donating the gift bags.
Reports were given by members who attended the December Cloverbud meeting, the Youth Leader Christmas Party, the Fall Leader training, the Weekend Backpack packing, the Butterfield Christmas Party and Bingo, and those members who bought gifts for the Sharing Tree.
The club will pack backpacks again in the month of February.
Members decided to go ice-skating on Sunday, January 28 at the Windom Arena. 4-H members from Watonwan and Cottonwood counties are invited to join in the fun.
Speedway Builder 4-Hers are encouraged to begin thinking about a skit for Share-the-Fun this spring.
Andy Pierson will be the club representative at the Fundraising Committee meeting.
The club voted to donate $250 to join with the disbanded Jimmies 4-H Club in purchasing cell slips. Cell slips do not allow a cell phone to notify a driver of text messages or phone calls.
Announcements were made regarding upcoming meetings in January.
Club members played a dice game for the white elephant gift exchange.
The Saunders and Bolte families served the meal.
Below are photos of the Speedway Builder 4-Hers packing the goodie bags for Butterfield area senior citizens: