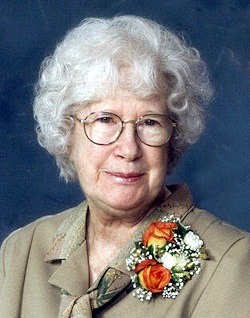 A Celebration of Life service for 84-year-old Peggy L. Romsdahl of rural St. James, Minnesota will be at 1 p.m. on Friday afternoon, Friday, December 15, 2017, at Zion Lutheran Church in Odin, Minnesota, with Pastor Carla  Reierson officiating. The church is located at 201 Watonwan County Road #19 North.
Burial will be in the Kansas Lake Lutheran Cemetery in rural Butterfield, Minnesota.
Visitation will be from 5 p.m. to 7 p.m on Thursday. December 14, 2017, at the Kramer Family Funeral Home in Trimont, Minnesota, located at 71 2nd Avenue S. E. A second visitation will be at the church the day of the service from 12 p.m. to 1 p.m.
Messages of sympathy may be sent to the family online at www.kramerfuneralhome.com.
Kramer Family Funeral Home of Trimont is handling the arrangements.
Peggy Romsdahl passed away on Saturday evening, December 9, 2017, at Truman Senior Living in Truman, Minnesota.
Peggy Lucille Kading Romsdahl, daughter of Arnold and Ruby (Rhoads) Kading, was born on January 25, 1933, in St. James. She was baptized and later confirmed at the First Presbyterian Church in St. James. Peggy was raised in St. James where she attended elementary and high school. She played the baritone horn, alto and French horn in the school band, and later in the St. James Fire Department Band.
On November 24, 1951, she was united in marriage to Norman Romsdahl at St. James. Peggy was a member of Zion Lutheran Church in Odin, and Kansas Lake Lutheran Church, rural Butterfield, where she sang in the choir and the Chirakaures, taught Sunday School and Vacation Bible School, and was a Christeens Youth Group Leader and held various offices in the Lutheran Church Women.
Peggy was very interested in history and researched and wrote several family histories. She was very talented and created Hardanger pieces, counted cross-stitch wall hangings, knitted and crocheted afghans and sweaters and sewed clothing, baptismal gowns and wedding gowns. She also enjoyed cake decorating, gardening and craft work. Peggy was part of the hand bell choir at Truman Senior Living and was always ready to play a game of Farkle. She was an avid Minnesota Twins and Minnesota Viking fans and loved watching the games. In 2010 she became a resident of Truman Senior Living in Truman.
Survivors include daughters, Dorothy (Bryce) Wolle of Madelia, Minnesota, Patricia (Richard) Norell of Idaho Falls, Idaho and Joyce  (Scott) Bolte of Butterfield; son Keith (Jayne) of St. James; eight grandchildren, Eric Wolle, Allison (Brad) Sandberg, Stephen (Stephanie) Norell, Shaun (Stacey) Bolte, Ryan (Marissa) Bolte, Christopher (Susan) Romsdahl, Jonathan (Cari) Romsdahl and Joseph (Patty) Romsdahl; great-grandchildren, Bearic, Aubriella, and Everleigh Wolle, Thorin and Raiden Berg, Levi Sandberg, Gage, Austin, Tyler, Shayla, and Kaita Bolte and Kaylee, Bradyn, Alexis, Isaiah, Madelinn, Mazie and Jaxon Romsdahl; brother, James Kading of Spring Park, Minnesota and other relatives and friends.
Peggy was preceded in death by her husband, Norman; her parents; brothers, Douglas and Donovan Kading; granddaughter-in-law, Krissy Wolle; brother-in-law, Franklin Romsdahl; sister-in-law, Mary Romsdahl; her husband's parents, Karl and Hulda Romsdahl and other relatives.