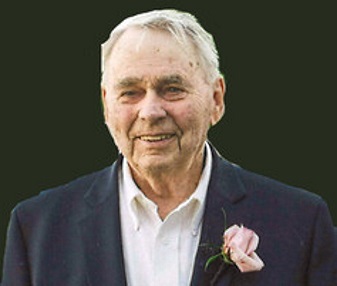 A Celebration of Life service for 91-year-old  Melvin A. Sandberg of fural Butterfield, Minnesota will be held at 10:30 a.m. on Saturday morning, November 4, 2017 at Zion Lutheran Church in Odin, Minnesota with Reverend Carla Reierson officiating. The church is located at 201 Watonwan County Road #19 North.
Burial will be in the Zion Lutheran Cemetery in rural Odin.
Visitation will be at Kramer Family Funeral Home in Trimont, Minnesota from 5 p.m. to 7 p.m., on Friday, November 3, 2017. The funeral home is located at 71 2nd Avenue S. E. A second visitation will be held at the church the day of the funeral service from 9:30 a.m. to 10:30 a.m.
Messages of sympathy  may be sent to the family online at www.kramerfuneralhome.com.
Kramer Family Funeral Home is handling the arrangements.
Melvin Sandberg passed away on Sunday afternoon, October 29, 2017, at the Good Samaritan Society-Sogge Memorial in Windom, Minnesota.
Melvin Arnold Sandberg was born on May 2, 1926, the son of Frank and Lilly (Holland) Sandberg in Long Lake Township, Watonwan County, Minnesota. He was received into the Kingdom of God through Holy Baptism on June 6, 1926 at Long Lake Lutheran Church and later confirmed in 1941 at Zion Lutheran Church in Odin.
Melvin received his education in country school in District #50 in Long Lake Township and later attended school in St. James. Melvin worked at the Toro Plant in Windom, Minnesota and then for Art Jacoby on his farm.
On September 3, 1948, he was united in marriage to Agnes Derksen at First Mennonite Church in Mountain Lake, Minnesota. After their marriage, they farmed in Long Lake Township until moving into Odin. In 1952, they purchased a house in Cobden, Minnesota and that was moved to Melvin's parents farm in Long Lake Township. Then they moved the house in 1958 to their present farm where they resided. Melvin continued to farm until 2002, when he turned the farm over to his two sons. In March 2017, became a resident of the Good Samaritan Society-Sogge Memorial in Windom.
He was a member of Zion Lutheran Church in Odin, where he held various church offices.  He served on the board of the Luther Memorial Home in Madelia, Minnesotae for many years. Melvin greatly enjoyed farming and doing custom corn-shelling.
In his spare time, he could be found golfing, bowling, watching the Minnesota Twins, playing billiards and cards and watching his grandchildren's sporting events.
Survivors include his wife, Agnes Sandberg of rural Butterfield; his six children, Ronald and Marlyce Sandberg of rural Butterfield, Bonnie Schuder of Fairmont, Minnesota, LuAnn and Mike Lepp of Easton, Minnesota, Mark and Linda Sandberg of rural Sherburn, Minnesota, Tom and Michelle Sandberg of Plymouth, Minnesota and Dan and Nancy Sandberg of rural St. James, Minnesota; 11 grandchildren, Bradley and Allison Sandberg, Travis and Amanda Sandberg, Melanie and Matthew Schmid, Lisa Lepp, Derek Lepp, Justin Schuder, Danielle and Tyler Brolsma, Nick Sandberg, Brooke Sandberg, Hailey Sandberg and Mallory Sandberg; four great-grandchildren, Austin, Elizabeth and Ilana " Lily" Schmid and Levi Sandberg; brother and sister-in-law, Leroy and Bernice Sandberg of Fairmont, Minnesota; sisters-in-law, Janet and Don Hoehne of Rosemount, Minnesota, Joann Johnson of Windom, Minnesota and Irene Simeroth of Mountain Lake, Minnesota; nieces and nephews; special friends, Chuck Nibbe, Kenneth  Romsdahl, Harold "Buddy" Romsdahl, Philip Moody, Bob Harder, Milo Holland, Norman Sandbo and other relatives and friends.
Melvin was preceded in death by his parents, son-in-law, Jerome Schuder; sister, Florence Baarson and brothers-in-law, Olgar Baarson and Harry Derksen, Joe Simeroth and Truman Johnson; father and mother-in-law, Ben and Tina Derksen;  and other relatives.