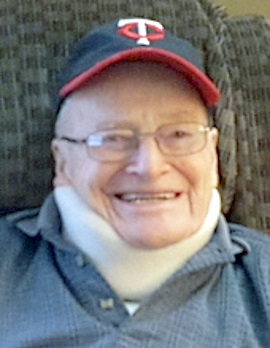 Funeral services for 96-year-old Loy Storey of Mountain Lake, Minnesota, formerly of Jeffers, Minnesota, will be held at 11 a.m. on Saturday morning, November 25, 2017, at the United Methodist Church in Jeffers. The church is located at 411 E. Whited.
Visitation will be at the church the day of the funeral service from 9:30 a.m. to 11 a.m. A Masonic Service will be held at 9 a.m that morning.
Online condolences to the family may be sent to: www.lacannefuneralhome.com.
LaCanne Funeral Home of Windom, Minnesota is handling the arrangements.
Loy's health was declining due to cervical vertebrae disintegration which manifested in physical weakness. He suffered a stroke on November 7, 2017 in the early morning hours and passed away on Friday, November 10, 2017 at the Good Samaritan Society of Mountain Lake-The Village.
Loy was born on November 9, 1921 in Jeffers, the son of James and Maud (Noble) Storey. He was baptized at the United Methodist Church. Loy attended school through high school at Jeffers and graduated in the Class of 1939. He was active in Boy Scouts and achieved the rank of Eagle Scout. He served in the United States Army/Air Corps division, as a radio operator from 1942 to 1945 during World War II. On May 28, 1943, he married Lavonne Wessel in Jeffers. Loy continued living in Jeffers until 2013 when he moved to an apartment in Windom and resided there until he entered The Village in Mountain Lake in September 2016.
Loy loved Jeffers and he and Lavonne were involved in the management of the City Meat Market from 1947 until January 7, 1984, when they retired to do some traveling in their motor home. Lavonne was diagnosed with a neurological disease and eventually had to move to the Sogge Good Samaritan Home in Windom. Loy visited Lavonne every day for two-and-a-half years. Lavonne died on April 11, 1996. After Lavonne passed, Loy stayed active in Jeffers, attending high school sporting events and other school activities and especially loved cheering on the Storden-Jeffers girls' basketball teams. He was also very active in the Jeffers United Methodist Church, on the Board of Cottonwood County Historical Society, with the American Legion and the Masonic Lodge and served on the advisory board of the Sogge Good Samaritan Home in Windom. He stayed busy earlier in life watching the Jeffers town baseball teams and later in life watching his beloved Minnesota Twins. Loy enjoyed his daily walks to the post office accompanied by his schnauzer dog, Justice.
What brought the most joy to Loy were his relationships with people, especially his family. Nothing pleased him more than spending time with his children and grandchildren.
Loy was preceded in death by his parents, James and Maud Storey; his wife, Lavonne Storey; brother, Marl Storey; sister, Maxine Thomas; brother, James Storey and an infant son, David Storey.
Loy is survived by his children, Doug (Barb) Storey of Jackson, Minnesota, Sue Carlblom of Apple Valley, Minnesota, Jeff Storey of Minneapolis, Minnesota and Roxie (Ted) Williams of Rogers, Minnesota; 13 grandchildren, 12 great-grandchildren and many dear friends who were like family to him.
Loy will be missed by so many who have benefited from his infectious smile, loving personality and fun sense of humor.