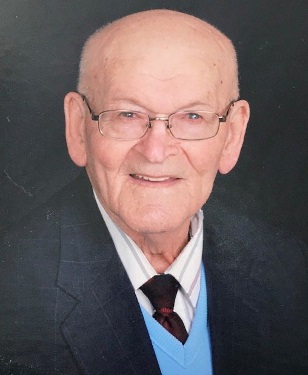 Funeral services for 96-year-old Abe F. Schultz of Mountain Lake, Minnesota, will be held at 10:30 a.m. on Wednesday morning, January 24, 2018 at Cornerstone Bible Church in Mountain Lake. The church is located at 1019 Prince Street.
Interment will be in the Cornerstone Cemetery (formerly Evangelical Mennonite Brethren Cemetery) in rural Mountain Lake, located on the west side of 570th Avenue, south of 360th Street and north of 10 Street/Cottonwood County Road #29.
Visitation will be on Tuesday, January 23, 2018, at Sturm Funeral Home-Mountain Lake Chapel, from 4 p.m. to 7 p.m. The funeral home is located at 420 10th Street North.
A second visitation will be at the church the day of the funeral service from 9:30 a.m. to 10:30 a.m.
Online condolences may be sent to the family at www.sturmfh.com.
Sturm Funeral Home-Mountain Lake Chapel is handling the arrangements.
Abe F. Schultz passed away on Thursday, January 18, 2018, at the Good Samaritan Society of Mountain Lake-The Village.
Abe F. Schultz, son of David S. and Sara (Flamming) Schultz was born in Carson Township, Cottonwood County, Minnesota on December 19, 1921. He received his education in Carson Township District #80 West through eighth grade and at Mountain Lake Bible School for two years. Upon confession of faith in Jesus Christ, Abe was baptized on August 13, 1930 by Rev. D. A. Regier. He was received into membership of the Evangelical Mennonite Brethren Church (EMB) of Mountain Lake (today, Cornerstone Bible Church).
On October 13, 1946, Abe was married to Myrtle Fast in the Immanuel Mennonite Church of Delft, Minnesota. They made their home on a farm northwest of Mountain Lake for 25 years. In August 1972, the couple retired and moved into Mountain Lake. Abe was active as the janitor in his church for 12 years, worked at Balzer Manufacturing in Mountain Lake, mowing lawns, blowing snow, was a caretaker of three elderly men in their neighborhood and drove school bus.
Abe enjoyed gardening, going south for the winter for 14 years, traveling to Europe in 1984 and visiting daughter, Bernice, in Kaneohe, Hawaii in 1988 and 2009.
He is survived by his dear wife, Myrtle of Mountain Lake; five children, Delmar (Carol) Schultz of Mountain Lake, Bernice Schultz of Kaneohe, Wilmar (Paulette) Schultz of Apopka, Florida, Marilyn (Larry) Penner of Bingham Lake,Minnesota and David (Debbie) Schultz of Lennox, South Dakota; daughter-in-law, Cindy Schultz of Crete, Nebraska; seven grandchildren; 22 great-grandchildren; sister-in-law, Irene Schultz and numerous nieces, nephews, and other relatives and friends.
Abe was preceded in death by his parents; son, Homer and siblings, David, Peter, Sara, Mary, Elizabeth, Henry, John, and Leonard.