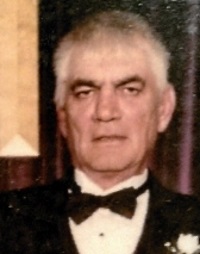 Memorial services for 75-year-old Joseph "Joe" Maras of Worthington, Minnesota, will be held at 10:30 a.m. on Wednesday morning, October 11, 2017, at St. Mary's Catholic Church, with Father Jim Callahan officiating. The church is located at 1215 7th Avenue.
Visitation will be Tuesday, October 10, 2017, at Benson Funeral Home in Worthington, Minnesota, from 4 p.m. to 8 p.m. The funeral home is located at 1225 Ryans Road
Joseph "Joe" Francis Maras passed away on Thursday, October 5, 2017, at the Crossroads Care Center in Worthington.
Joseph "Joe" Francis Maras was born on November 19, 1941, in Windom, Minnesota, the son of John and Anna (Wieskus) Maras. He was the 11th of 12 children (seven boys and five girls). He grew up on a farm north of Windom and attended grade school at Dale Township Country School. Joe graduated in 1959 from Windom High School.
He loved sports. Joe started pitching fast-pitch softball at the age of nine for his 4-H Club. Joe also played football for Windom High School and won all-conference honors. He continued to pitch fast-pitch softball for many years of his married life for many different teams through 1976.
Joe married Audrey Minion on August 10, 1963. They lived in Bingham Lake, Minnesota until 1965, when they moved to the family farm after his father's death. Joe worked at the Delft Elevator in Delft, Minnesota, as a feed truck driver, the Windom Elevator and Moon's Locker, both of Windom. In 1980, he moved to Worthington in 1980 to manage the Worthington Grain and Feed Elevator until his retirement in 2004.
He loved gardening, hunting, and playing or watching sports.
Joe is survived by his wife, Audrey Maras of Worthington; five children, Gregory Maras of Worthington, Douglas (Tamra Schippmann) Maras of Round Lake, Minnesota, Lynette (David) Sherer of Worthington, David (Laurie) Maras of Worthington and James (Bobbi) Maras of Browerville, Minnesota; nine grandchildren, Marcus (Kelly) and Nathan (Greg) Maras, Devon and Jared (Doug) Maras, Alexis and Logan (Lynn) Sherer, Dillon and Lincoln (Dave) Maras and Chloe (James) Maras; two step-grandchildren, Jacquelynn and Carly (Doug) Schippmann; five great-grandchildren, Jayden and Alisa (Marcus) Maras, Serina (Devon) Maras and Sadriela and Allyda (Lynn) Chicas; two step great-grandchildren, Axial Schippmann and Ryker Gear (Jacquelynn); two brothers, Paul (Gerry) Maras of Windom and Ed (Pat) Maras of Urbandale, Iowa; four sisters, Helen Haugen, Rosie Schwalbach, and Arlene (Leo) Bartosh, all from Windom and Kathy (Henry) Grothaus of Afton, Minnesota and many nieces and nephews.
He was preceded in death by his parents; brothers, Ray, Izzy, John and Mike; two nephews, Richard Maras and Tom Maras; brothers-in-law, Howard Haugen and James Schwalbach and sister-in-law, Pauline Maras.