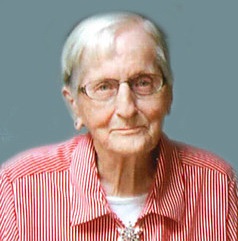 A Celebration of Life Service for 100-year-old Jennie May Lorenz of Trimont, Minnesota, will be at 11 a.m. on Saturday morning, October 14, 2017 at Trinity Lutheran Church in Trimont with Reverend John  Meyer  officiating. The church is located at 31 Main Street West.
Burial will be in Mt. Hope Cemetery, located south of St. James, Minnesota on Watonwan County Road #27.
Visitation will be one hour prior to the services at the church on Saturday.
Messages of sympathy may be sent to the family on line at www.kramerfuneralhome.com.
Kramer Funeral Home in Trimont is handling the funeral arrangements.
Jennie Lorenz passed away on Wednesday evening, October 11, 2017, at the Trimont Health Care Center in Trimont.
She was born Jennie May Watkins on April 15, 1917, the daughter of Ray and May (Riggs) Watkins in Spencer, Iowa. Jennie attended country school in Royal, Iowa and later at Butterfield PublicSchool in Butterfield, Minnesota.
On September 8, 1935, she was united in marriage to Carl H. Lorenz at St. Paul's Lutheran Church in St. James. After their marriage, they lived and farmed near Bingham Lake, Minnesota until moving to a farm in Elm Creek Township, Martin County, Minnesota. The couple moved into Trimont in 1967. In 2001, they moved to Amberfield Apartments.
Carl died on February 4, 2007. In 2014, Jennie became a resident of the Trimont Health Care Center.
Jennie worked as a seamtress for many years. She was a member of Trinity Lutheran Church and its LWML, served on the school board in District #39 and belonged to the Trimont Garden Club. Her love for the nature, trees and flowers were very special to her.
She is survived by daughter, Darlene Slaughter and her husband, Lyle, of Trimont and daughter-in-law, Sandi Lorenz of Blaine, Minnesota; four grandchildren, Jane and Rod Anderson, Duane Slaughter/Jane Rodging, Darcy and Tony Flink and Scott and Kari Lorenz; eight great-grandchildren, Cierra and Mat Thiebert, Janaya and Erich Munsch, Derek Slaughter/Kelsy Olson, Dustin Slaughter, Ryan Flink, Aaron Flink, Ethan Lorenz and Avery Lorenz; sister, Laura Lorenz of Trimont; sisters-in-law, Lila Mathias and Lois Watkins, both of St. James; brother-in-law, Lyle Stolze of New Ulm, Minnesota and several nieces and nephews and other relatives.
Jennie was preceded in death by her parents; husband, Carl Lorenz; son, DeWayne Lorenz; sisters, Zeli Lorenz and Beverly Schmidt; brothers, Art Watkins and Vance Watkins and other relatives.