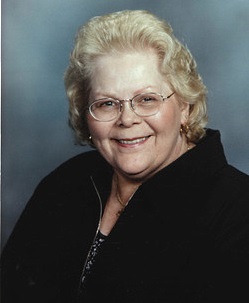 A Celebration of Life Service for 71-year-old Gloria Jean Bauman of Jackson, Minnesota, will be at 11 a.m. on Friday morning, April 21, 2017 at St. John's Lutheran Church in Sherburn, Minnesota with Reverend Steven  D.  Wilson officiating.
Visitation will be from 10 a.m. until the time of the services on Friday at the church.
Gloria Bauman passed away on Easter Sunday morning, April 16, 2017, at Sanford Jackson Hospital in Jackson.
Messages of sympathy may be sent to the family online at: www.kramerfuneralhome.com.
Kramer Family Funeral Home of Trimont, Minnesota, is handling the funeral arrangements.
Gloria Jean Bauman was born on March 28, 1946, the daughter of Arnold and Bernice (Piske) Bauman in Woodstock, McHenry County, Illinois. She grew up in the Union, Illinois area and attended school at Zion Lutheran Church School until the eighth grade. Gloria then attended Marengo High School, graduating with the Class of 1964.
She was employed at Arnold's Manufactory in Marengo, Illinois. She was married and raised three children. Gloria then moved to Medford, Wisconsin, and in 1977 moved back to Union until November 2, 2015, when she moved to the Good Samaritan Home in Jackson to be near her family.
Gloria enjoyed visiting with people, crocheting, reading and collecting solar sun bobble heads. Most of all, spending time with her grandchildren and great-grandchildren were very special to her.
Survivors her family, son, Gary (Velda) Roush of rural Mountain Lake, Minnesota; son, Bill (Julie) Roush of Woodstock, Illinois and daughter, Lori (Todd) Krumwiede of Trimont; 14 grandchildren, Brian, Mitchell and Breck, Suzi and Stefan, Jason, Shawna and Justin, Chad, Jessie and Dustun, AJ, Van and Lexi; 10 great-grandchildren, Trent, Tiara, Chase, Sebastian, Caleigh, Violet, Lincoln, Gwendalyn, Wyatt and Skyler; sister, Carol (Richard) Swingle of Arizona; brother, Tom (Barb) Bauman of Union; nieces and nephews and other relatives.
Gloria was preceded in death by her parents; brother, Gerald Bauman and other relatives.
In lieu of flowers, Gloria's family prefers memorials be made to the American Diabetic Society.