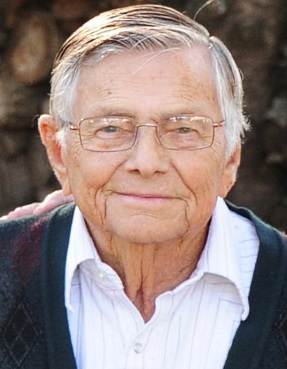 Funeral services for 86-year-old Aasten Braaten of Butterfield, Minnesota, will be held at 10:30 a.m. on Saturday morning, April 22, 2017, at Community Bible Church in Butterfield with Reverend Tim Hall officiating. The church is located at 100 Chapman Street.
Burial will be in the Butterfield Mennonite Cemetery, located one mile north of Butterfield on Watonwan County Road 5.
Visitation will be at Sturm Funeral Home-St. James Chapel in St. James, Minnesota, on Friday, April 21, 2017, from 5 p.m. to 7 p.m. The funeral home is located at 906 10th Avenue South. A second visitation will be at the church the day of the funeral service from 9:30 a.m. to 10:30 a.m.
Online condolences may be sent to the family at: www.sturmfh.com.
Sturm Funeral Home-St. James Chapel is handling the funeral arrangements.
Aasten Braaten passed away at his home on Wednesday, April 19, 2017.
Aasten Herman Braaten was born on August 31, 1930, on the family farm west of Butterfield, the son of Svienung (Sam) and Mabel (Iverson) Braaten. His mother died when he was just four-years-old and his father died when he was 11. Aasten attended Long Lake Lutheran Church and Butterfield School through the eighth grade. He then worked for his grandmother's cousin, Ted Olested until he was 21 and received his draft notice. He enlisted and served in the United States Air Force from 1951-1959 and was stationed in England and Norway. Following his return from the service, he worked for his uncle near Dassel, Minnesota before returning to Butterfield where he drove truck for Bill Veech.
On June 13, 1959, Aasten was united in marriage to Agnes Adrian. The couple started farming north of Butterfield. They moved into town in 1993 and continued to farm until 2014. They enjoyed wintering in Texas for a few years, and Arizona for 18 years. Aasten was a member of the Community Bible Church in Butterfield serving as a council member and on the Butterfield Threshermen's Association (BTA) Board.
He is survived by his wife, Agnes Braaten of Butterfield; son, Bret (Annette) Braaten and daughters, Barb (Mark) Warner and Beth Winters; grandchildren, Blane and Connie, Mike and Paula, Nick and Jenn, Nathan and Cally, Nadeen and Jeff, Travis and Misty, Scott and Brittany and Naomi and Andy; several great-grandchildren and sisters, Anna Ringen and Mabel Olson.
Preceding him in death were his parents; son-in-law, Kevin and siblings, Aaste, Olaf, Marland, and Asste Oleanna.