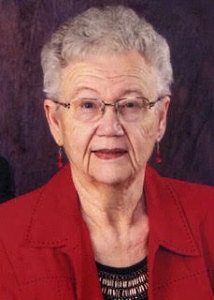 Funeral service for 83-year-old Dolores R. Leckband of Lakefield, Minnesota, will be at 10:30 a.m. on Monday morning, March 27, 2017, at the Immanuel Lutheran Church in Lakefield with Pastor Daniel Provost officiating.
Burial will be in the Zion Lutheran Cemetery in rural Ocheydan, Iowa later that afternoon.
Visitation will be at the church on Sunday, March 26, 2017 from 5 p.m. to 7 p.m., and on the day of the service from 9:30 a.m. to 10:30 a.m.
Osterberg Funeral Home in Lakefield in charge of the arrangements.
Dolores R. Leckband passed away at the Valleyview Assisted Living in Lakefield on Tuesday, March 21, 2017.
Dolores Ruby Leckband was given life by her Creator and was born on March 12, 1934, the daughter of Alex and Ruby (Hohenstein) Milbrath in Rost Township, Jackson County, Minnesota.
On March 29, 1934, she received the gift of Holy Baptism at St. Paul Lutheran Church in Rost Township, and became a child of God. On March 21, 1948, she publicly confessed her faith and was confirmed. She received the precious gift of the Lord's life-giving body and blood.
Dolores graduated from Lakefield High School in 1952. Dolores went to Bethany College in Mankato, Minnesota and received a teacher's certificate. She taught for two years at Zion Lutheran School in rural Ocheydan.
On May 27, 1956 she received the gift of a beloved companion in her spouse, Royce Leckband. They farmed in the Ocheydan area for several years before moving to Springfield, Illinois, where Royce attended the seminary. God blessed them with the gift of four children, Thomas, Daniel, Jerome, and Elizabeth.
Dolores took great joy in being a homemaker, and she loved baking.
Royce and Dolores lived in Pleasant Plains, Illinois; Spring Valley, Minnesota; Wheaton, Minnesota and Fulda, Minnesota. They retired in 1996 and moved to Lakefield.
God blessed Dolores' life with many special people as she served God in her vocations at home, church and in the community.
She was preceeded in death by her parents; her sister, Donna Krahn; three sisters-in-law, Joyce Milbrath, Betty Milbrath and Janet Leckband and four brothers-in-law, Walt Krahn, Pete Kilen, Virgil Leckband, and Arnold Scheu.
Survivors include her husband, Royce; three sons, Thomas and Debbie Leckband, Daniel Leckband and Jerome and Kristi Leckband; one daughter, Elizabeth and Kent Patterson; nine grandchildren; two brothers, Mel and Anita Milbrath and Delmar Milbrath; two sisters, Marlys Kilen and Marilyn Milbrath and one sister-in-law, Shirley Scheu.
Memorials may be designated to Immanuel Lutheran School or Concordia Theological Seminary Food Bank in Fort Wayne, Indianautheran .