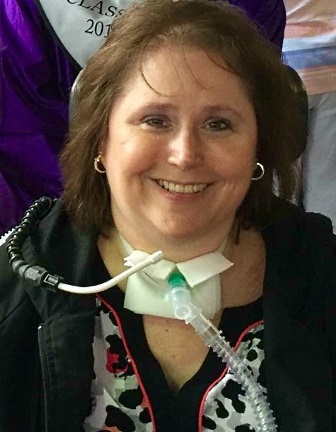 Memorial services for 41-year-old Katherine "Kathy" Jo Bean of Butterfield, Minnesota, will be held at 2 p.m. on Saturday afternoon, January 7, 2017, at Community Bible Church in Butterfield, with Reverend Tim Hall officiating. The church is located at 100 Chapman Street.
Burial will be at a later date at Zion Lutheran Cemetery, located west of Odin, Minnesota.
Visitation will be at the church the day of the memorial service, beginning at 1 p.m.
Katherine Jo Bean passed away on Monday, January 2, 2017 at Sanford Medical Center in Sioux Falls, South Dakota.
Online condolences to the family may be sent to: sturmfh.com.
Sturm Funeral Home-St. James Chapel is handling the arrangements.
Katherine Jo Bean was born January 28, 1975, in Jackson, Minnesota, the daughter of T. Lee Bean and Marlene (Anderson) Bean. She attended and graduated from high school in Midwest, Wyoming and completed one year of college in Sioux Falls, South Dakota. In May 1994, she had an accident that left her a quadriplegic and ventilator dependent. She was baptized in July 1994 at the North Memorial Medical Center Chapel in Robbinsdale, Minnesota.
While in school, Kathy enjoyed playing volleyball and basketball. She was also a cheerleader for two sports. She was very proud of her school.
Kathy enjoyed having all of her family around her. After her accident anyone she met became part of her family. She never forgot a face or name. She kept track of family and friends all over the United States through social media. She fought a long hard battle against her handicap but always kept a positive attitude and excitement for life. She is missed every day.
She is survived by her mother, Marlene Bean of Butterfield; sisters, Annette (Bret) Braaten of Butterfield, Pam (Jay) of Bar Nunn, Wyoming and Teri (Paul) Garnahart of Kaycee, Wyoming; nieces and nephews, Blane (Connie) Braaten, Michael (Paula) Braaten, Kody (Darlene) Garnahart, Samantha (Jesse) Bishop, Tyler Guthrie and Ethan Garnahart.
Preceding her in death were her father, Lee Bean; brother, Bradley; sister, Marcia; both sets of grandparents and special friend, Thomas Cassidy.
Kathy's family prefers that you make a donation to a local charity in lieu of sending flowers.