'Honored and humbled to represent so many courageous people'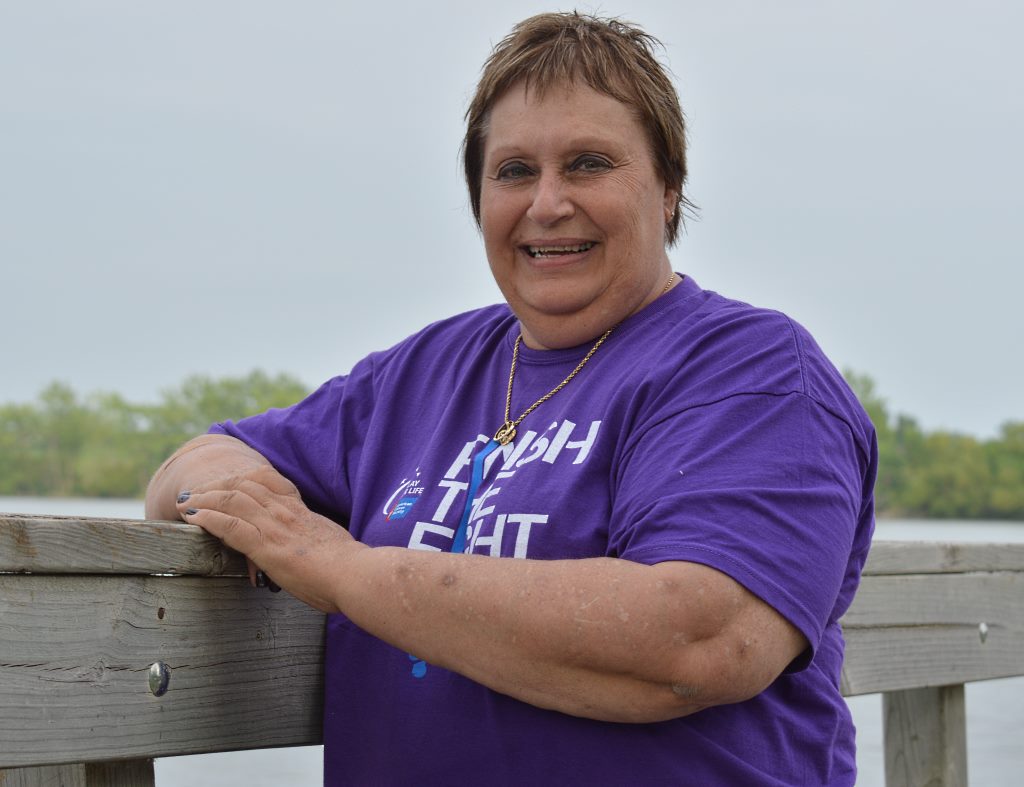 One-hundred-and-two cancer survivors registered to take part in the Survivors' Lap at the 16th annual Cottonwood County American Cancer Society Relay For Life on Friday evening, July 25, at Tegel's Park in Windom, along the shores of Cottonwood Lake.
One of those registered survivors, Mary Willaby of Mountain Lake, was also a part of the group of seven who served this year as Honorary Chairpersons for the relay.
"I was honored and humbled to represent so many courageous people," expresses Mary. "I have come to the Relay ever since my cancer diagnosis and successful treatment in 2011. Taking the Survivors' Lap is just, just, overwhelming. And this year – 102 – that's right – 102 folks were on hand to walk that circuit and are recognized with luminarias in the Garden of Hope. Talk about 'strength in numbers.'
"And there are so many more whose names are on the luminarias stretching up-and-down each side of the walkway. The number of survivors is reflective of the fact that so many more people are taking preventative health care seriously – and is the direct result of the advances made in cancer detection, treatment and research – due in great part to the work of the American Cancer Society and all those who support the effort through fundraising.
"As a survivor, I want to be a good representative for all of the other survivors – and also for those who lost their fight with cancer."
Mary's story
Sixty-one-year-old Mary Willaby's "cancer story" began three-and-one-half years ago. "It was fall 2010," Mary recalls. "I just was not feeling well, so went into the clinic to have Kathy Harder, a registered nurse practitioner, give me a complete physical – and that included a digital mammogram." (Mary's last mammogram – 10 years earlier in 2000). "A lot of 'life' – personal things just get getting in the way." she addresses.
That mammogram – as well as a second – came back with the results one does not want to hear. "There was something up," reflects Mary. A biopsy was taken on December 29, and shortly into the new year of 2011 – on January 3 – the results were in. "I had invasive lobular carcinoma. It is a cancer that lays flat – no lumps – in the milk duct glands," Mary explains.
A visit with Avera surgeon, Dr. Juliann Reiland, in Sioux Falls, South Dakota on January 6 gave Mary all the information she was craving. "We had an extensive visit; I came out of that consultation very well informed.
Discussed was the option scenario – biopsies or surgery.
"I decided to go with the more expansive biolateral mastectomy," shares Mary, "that decision based on the fact that I could have this surgery and be done – or have biopsies now – and later – and again – and on and on."
Surgery date was January 27; and it was a success.
Reconstruction surgery was led by Dr. Anthony Breit – and Mary considered the end result of that operation a success, too.
Today, Mary has once-a-year visits with Dr. Reiland, as well as a check-up with oncologist Dr. Sana Jeffries in Sioux Falls every six months. In addition, she has been taking a hormone pill, and will continue to do so for seven more years.
About Mary
Mary has enjoyed the support of her family, 33-year-old son Aron Willaby and his wife, Kendra of Belle Plaine, who are expecting their first child in December along with daughter Krystle Willaby, 32, and her significant other, Todd Sauser, both of Chandler, Arizona, who are also expecting their first child, in October – as well as uncles and aunts and other family members.
Having Mary's back in her battle as well has been the staff and students at the Red Rock Ridge Learning Center in Windom, where Mary has worked as a special education paraprofessional for the past 10 years.
Make the early catch
Stresses Mary, "Have your yearly mammograms. My cancer was caught early, which gave me only a 3% chance of it reoccurring.
"That catch was the catch of a lifetime – MY lifetime."