Jayne Katherine, in her short life, shared a gift of 14-carat memories
The skillful touch of a diamond-cutter cleaves, cuts and polishes the diamond hidden within the stone.
Parents use that same type of finesse as they guide, encourage and nurture their children in order to bring out the special – and individual – attributes within each one. The end goal is for each child to be able to eventually unveil herself or himself as a well-rounded adult constructively adding to society.
Sometimes, however, parents and child – together – are not afforded the opportunity of the time it takes to achieve that result. Sometimes, a parent is only given a child to share life with on Earth for just a few fleeting moments. He or she is here – and then gone – seemingly in the blink of an eye.
Despite those few days, weeks, a child with such a short lifetime often has the ability to forever touch their parents and other family members – indeed, everyone they meet – with cherished memories and life lessons.
Such is the story – and eternal touch – of the sweet, short 15-weeks of the life of Jayne Katherine.
Face-to-face with frightening reality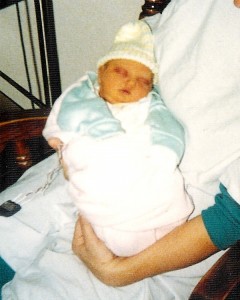 Jayne Katherine would have turned 23 this past November 29. She was born on a late November afternoon in 1990, entering this world with quiet, catlike cries; her delivery into life was relatively easy. Even so – even before the moment of her arrival – it was known she was going to be special. But no one knew just how special she would be; that over the three-plus months of her life she would be revealed to be a 14-carat gem providing an equal rating of memories.
Jayne was born with hydranencephaly – a congenital – and eventually terminal condition. Hydranencephaly is a physical anomaly in that the brain's cerebral hemisphere – to varying degrees – is not there; did not develop.
Following her birth – and a number of CT scans and MRI tests – physicians determined that what they had believed earlier was indeed fact; the only developed portion of her brain was that of the brain stem, located at the base of the brain. The remainder of her cranial cavity – the space where her brain should have been – was filled with cerebrospinal fluid. Doctors told the parents this news, adding that the infant was blind, and probably deaf as well. They additionally explained to them that she did not have the portion of the brain that controlled her body temperature. They told them that the condition presented time limits on Jayne's life.
The mother's gynecologist and additional medical professionals were surprised that the pregnancy had not earlier ended in a miscarriage, that the mother's health had not been compromised prompting an emergency situation, that the little girl had survived her birth delivery – or that – here she was – living life, defying the odds once again for babies with the anomaly.
As Jayne's mother shares, remembering back to the time of her daughter's birth, now more than two decades ago, "Once Jayne exceeded all of the physicians' assumptions of her life expectancy, they veered away from providing us with any more predictions or certainties; they couldn't. They could not be certain how long she would survive. But, they – and we (my husband and I) – did know that she was a strong girl – a fighter – which belied her actual health condition."
The day following her birth, her parents took her to Sioux Valley Hospital in Sioux Falls, South Dakota (today, Sanford Health) for additional tests and care in the hospital's Neonatal Intensive Care Unit (NICU). Those results concurred with what was previously revealed – Jayne's condition would be terminal; her viability for for anything resembling a normal life – dark.
Since no brain had developed, the center of the nervous system necessary for coordinating and communicating body needs for life-dependent tasks, those tasks went unmet – and  could do so only for so long. Because she lacked the nervous system ability to control body temperature, a warming pad in her bassinet was a necessity so that she remained warm – not allowing her body temperature to slide.
When being held in cradling arms, she had to be swaddled tightly in blankets – the needed "hug" of warmth. Surprisingly, Jayne had the ability to suckle on the baby bottle and was able to be lulled into contentment with a full stomach along with the sense of touch and feeling of warmth.
Now that the determination of Jayne's health condition was stamped as official, her parents were besieged with a flurry of decisions to make: how to best care for her and make her life comfortable, would that be at home or at some type of facility, what advanced health care she would need if she continued to survive and grow – and the most emotional decision of all – whether or not to place a "Do Not Resuscitate" status on their daughter which would allow the health care professionals caring for her to just allow her to pass away without undertaking any lifesaving measures if she went into cardiac arrest or other life-threatening distress. In the end, the parents decided that they did not want her to suffer; so, if it was God's will, they would let her slip away.
Jayne's parents took her home to care for her and to allow for a connection to grow between themselves and their daughter – as well as with their son and his sister. They went into this new family experience without knowing when the "sands of time" of her life would run out; not knowing if when they went to pick her up from her bassinet they would find her gone, or while holding her tightly in their arms, stillness would envelop her and she would pass away.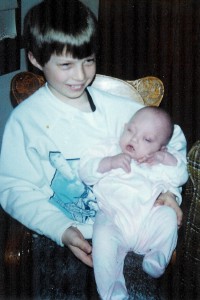 But, before making that decision, they held in-depth family conversations with their fourth-grade son, Jayne's older brother, Jon. "He had to agree to this arrangement," the mother of the children shared, "he had to be on board with it and we had to be there to keep him strong. Less than two years earlier, his brother, James, had been still-born, and now here was another sibling whose relationship with him would be short-lived as well. Jon admitted that he would be scared if it was he who discovered Jayne in her bassinet, her life here on earth gone. But . . . he also wanted all of us to be a family together at home – for as long as that would be."
Cherished memories saved, life lessons learned as time slows
In somewhat of a surprise, Jayne flourished after becoming the fourth member of the family in the Mountain Lake home – thriving physically. She grew into a chunky three-month-old baby who liked to suck her thumb. She had big hands that ended in long "piano-playing" fingers; a healthy, raging appetite – and a very clear preference for cranapple juice over straight cranberry or apple juice, pinching tight her lips into a pout if the first drops she tasted through the bottle's nipple were not that of her fanned favorite drink. She was held tight – and loved. She always wore a stocking cap on her head as an aid to help maintain her body temperature as close to normal as possible as  to hold onto her body temperature, as a large amount body heat escapes through the head.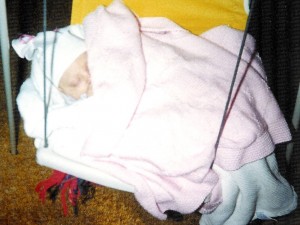 Over the course of those three months, Jayne celebrated her first Christmas – with Santa and Mrs. Claus making a special appearance. In addition, she was privvy first-hand to United States history, awake nights to watch CNN televise the first "shock-and-awe" of Desert Storm, as troops drove Iraqi forces out of Kuwait and back inside their own country's borders. She witnessed Minnesota blizzards, was snuggled in blankets in her swing and celebrated love during February's Valentine's Day.
The day-to-day routine of life had been established as best as it could be.
Fragility of life makes its approach
That normalcy proved to be just a myth, as in late February the fragility of the little girl's life made its approach; the "other shoe" the family had been waiting for – and dreading – did indeed drop. Jayne began suffering body-stiffening seizures; so frequently that her pediatrician's hand was forced to keep her sedated at all times. She was fed by sending the formula from a syringe through a plastic tube inserted into her nose and eventually down to her stomach.
She was hospitalized in a Worthington hospital; it was no longer able for her to live at home and so contingency plans had to be drafted.
A guiding hand provides destiny
Those plans included moving Jayne to to the Home For Creative Living in Windom, a specialty skilled facility for physically and mentally challenged infants and children. However, the number of infants already at the facility was at the limit, and, although Jayne, as a Cottonwood County resident would take priority in having a bed – it would also mean that a non-county infant and his or her parents would have upheaval and changes in their lives.
Knowing that time was becoming short for their daughter, the parents dragged their feet in admitting her to the home, preferring to leave her in the hospital. Eventually, the insurance care provider placed limitations on that hospital stay; a date for moving to the home was set.
In an ironic twist that defies this world understanding, early on the morning of March 14, 1991 – the day that the parents were to be moving their daughter from the hospital to her new home, a nurse phoned to tell them that, "it was time." When they arrived at the hospital, they knew it to be true; Jayne was ashen in color and breathing weakly and erratically.
For the next three hours, they took turns holding – and talking to – their daughter. As the mother remembers, "She was in my arms when . . . her life's difficulties were over; she had moved on to a better place."
Many lessons were learned, and memories made, over the course of several winter months in late 1990 and early 1991. The number one "chalk talk" in our education over this time is one of which most people are aware, but often skip over in the course of of their 24/7 lives – that life is fleeting.  And this is why celebrating the miracle of just being alive allows us to give a positive, long-lasting influence on our families, friends, neighbors – and strangers. That joy of the celebration is demonstrated in how we live our lives, treat and react to others and the love given to us that we share all others.
A  little more than two years later, the parents welcomed another daughter, Jill, to the family; a healthy girl, surviving intrauterine difficulties of her own.
If you have not already realized it, Mark and I are the parents of the little girl; the mother telling the story of Jayne's birth and short life is – me.
Jayne was my daughter – and she had, indeed, the sparkle of a special cut of diamond.