Top spellers, second-, third-place in grades 1-5 recognized at 2018 Spelling Bee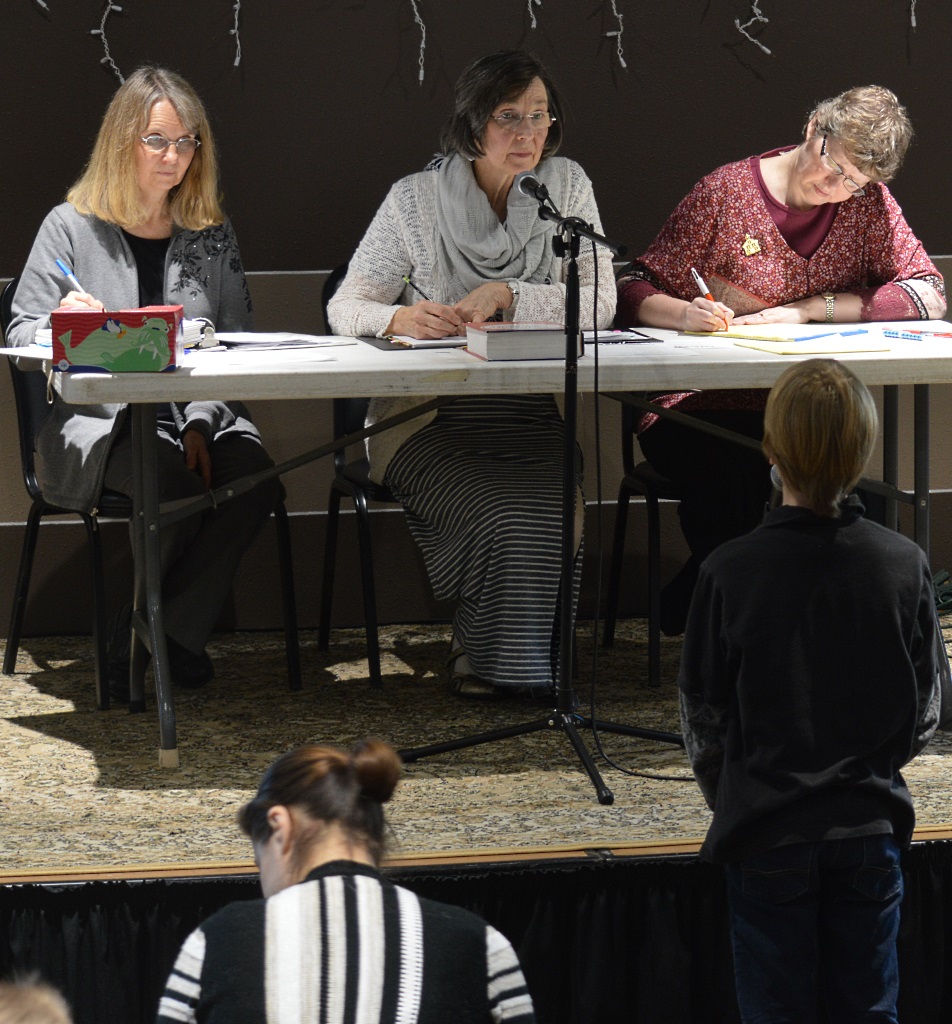 Mountain Lake Christian (MLC) Elementary held its 2018 Spelling Bee this morning, (Thursday, January 18) in the MLC Music Room. Champions were crowned in grades one-through-five, along with second-place and third-place spellers for each class.
Second/third grade teacher Nordis Olson was the spelling master/pronouncer, with Sheryl Fast, kindergarten teacher, the recording judge. Rachel Knutson, first grade teacher, cued the rounds and the time was Amanda Korns, fourth/fifth grade instructor.
Grade-level appropriate words were used for the students in each round. The bee followed the rules of the Association of Christian Schools International. The word lists were distributed prior to Christmas break go provide students the ability to study and practice. As the spellers advanced through the rounds, and the lists were depleted, more difficult words per grade level were introduced.
The MLC Elementary teaching staff has found that participating in a Spelling Bee is of great benefit to the school's students. Beyond helping students develop spelling skills, it also:
Improves listening skills
Develops grit
Develops stage presence in a formal setting
Helps them become familiar with using a microphone
Builds confidence
Helps build character
Helps develop patience and respect for others.
The champion, second-place and third-place spellers from each of the six grades were as follows:
+ First Grade: 1 – Chloe Oltmans, 2 – Galaxie Penner, 3 – Emma Nickel. Chloe won in 10 rounds with the word "father."
+ Second Grade: 1 – Alden Klassen, 2 – Ezra Petersen, 3 – Taryn Marcy. Alden won in 19 rounds on the word "charted."
+ Third Grade: 1 – Trevor Meyer, 2 – Quinn Vidana, 3 – Kirstin Nickel. Trevor was the winner in 11 rounds with the word "diamond."
+ Fourth Grade: 1 – Isaiah Rete, 2 – Cristy Renteria Rojas, 3 – Jackson Fowler. "showerhead" was Isaiah's winning word in the eighth round.
+ Fifth Grade: 1 – Alexis Nickel, 2 – Ethan Schroeder, 3 – Bailey Meyer. Tyler won on the word "haphazard" in the 12th round.