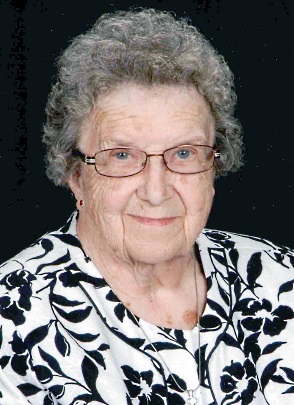 Funeral services for 83-year-old Myrna Blackstad of St. James, Minnesota, will be held at 11 a.m. on Wednesday morning, December 20, 2017, at the First Lutheran Church in St. James. The church is located at 716 6th Avenue South.
Interment will be in Mount Hope Cemetery, located south of St. James on Watonwan County Road #27.
Visitation will be at Sturm Funeral Home-St. James Chapel on Tuesday, December 19, 2017, from 5 p.m. to 8 p.m. The funeral home is located at 906 10th Avenue South. Visitation will continue at the church the day of the funeral service from 10 a.m. to 11 a.m.
Online condolences may be sent to the family at www.sturmfhcom.
Sturm Funeral Home-St. James Chapel is handling the arrangements.
Myrna Jean Blackstad passed away on Saturday, December 16, 2017, just four days short of her 84th birthday, in Rochester, Minnesota, with her children by her side.
Myrna was born in Long Lake Township, Watonwan County, the daughter of Alfred and Emma Hoffman and was baptized by Pastor Birkholz at her parents' home on January 7, 1934. She attended Triumph-Monterey High School. from where she graduated in 1951. She then moved to Darfur, Minnesota with her family, where her dad farmed. After high school graduation, she worked at Sward Kemp in St. James, where she made many lifelong friends.
She then met Obert Blackstad, whom she would marry on September 2, 1956 at St. John's Lutheran in Darfur. She would spend the next 57 years by his side at the Blackstad family farm, raising their children, Mary and Tom, taking care of the 3,000 chickens, and being a true farmer's wife.
Myrna lived a good life with good people surrounding her and caring for her.Her love for telling stories, her daily phone calls, doing her word find puzzles, going to church and enjoying Sunday breakfast with friends, and her love for joy rides are just some of the things that she will be remembered for the most.
While on this earth, she was the watchful eye and always knew who was coming and going (and checking with Tom as to whose white truck just pulled in the yard). We know she now has the greatest view to watch over Highway 4 and will know whose loud semi – with all the lights on it – drives by at 3 a.m.
Myrna is survived by her daughter and son-in-law, Mary and Glenn Runge and son, Tom Blackstad, all of St. James; three grandchildren, Scott (Samantha) Runge of St. James, Sara Runge (Samuel Cyrus) of Thousand Oaks, California and Susan (Dan) Bottin of St. James; five great-grandchildren, Jacob, Keeley, and Katelyn Runge and Emma and Harper Bottin; sister-in-law, Lorraine Hoffman; nephew, Larry Hoffman; niece, Lisa Krahn; the Nesseth and Simonsen families; her faithful friends, Phyllis and Elaine and many dear cousins and friends who were just a phone call away.
When Myrna passed on to the greater life, she was greeted by her beloved husband who has been waiting patiently for her to arrive, Obert Blackstad; parents, Alfred and Emma Hoffman; mother- and father-in-law. Ole G and Marie Blackstad; brother, Marvin Hoffman; sister-in-law and brother-in-law, Mayme and Benny Pagenkopf; an infant son and many other dear friends and family.