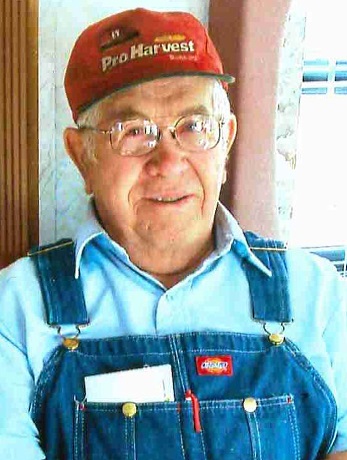 Funeral services for 93-year-old George A. Rahn of Mountain Lake, Minnesota will be held at 2 p.m. on Thursday afternoon, December 28, 2017, at Lakeview Gospel Church in Mountain Lake. The church is located at 1002 10th Street North.
Interment will be in Mountain Lake City Cemetery, located on 10th Street North at Midway Road.
Visitation will be Wednesday, December 27, 2017, at Sturm Funeral Home-Mountain Lake Chapel, from 4 p.m. to 7 p.m. The funeral home is located at 420 10th Street North. A second visitation will be at the church the day of the funeral service from 1 p.m. to 2 p.m.
Online condolences to the family may be sent to: www.sturmfh.com.
Sturm Funeral Home-Mountain Lake Chapel is handling the arrangements.
George A. Rahn passed away on Thursday, December 21, 2017, following a series of strokes.
George A. Rahn was born to Abraham and Helena (Penner) Rahn on August 22, 1924, on a farm north of Delft, Minnesota. On December 28, 1948, George was married to Gladys J. Derksen at the old country EMB (Evangelical Mennonite Brethren) Church north of Mountain Lake. To this union four children were born: twins Violette and Vernelle, Rogene and David.
Growing up George's family moved around in the Delft, Bingham Lake, Minnesota and Mountain Lake areas. George attended various country schools. Eventually his parents purchased a farm northwest of Mountain Lake where George lived until his marriage.
He graduated from Mountain Lake Public High School in 1943. Like his father, George was a farmer. George and Gladys began their married life on a farm place northeast of Mountain Lake. Then, in 1954, George bought a farm four miles north of Butterfield, Minnesota, where George and Gladys raised their family. Later additional land was purchased. In the early years of farming, George ran a custom baling business, fed out feeder cattle that he would buy at Fort Pierre, South Dakota and maintained a dairy herd.
From 1983 to 2009 (until age 85) George joined with his son-in-law Glen Jones on the summer wheat run, harvesting grain from Oklahoma to North Dakota. He saw many changes in farming during his lifetime. He started his career picking corn by hand, shocking oats, driving a team of horses on a threshing ring and having his first corn crop planted by horses. He ended his career with owning a big track tractor and a combine with a GPS (global positioning system).
George accepted Christ as his Savior in his youth and was baptized at age 15. He loved the Lord and loved the church, faithfully attending every Sunday. He served many years on the Deacon Board and as a Sunday School teacher at the Gospel Mennonite Church (Lakeview Gospel). He had a heart for missions and fully stood behind his daughter Violette and her husband in their missionary work in Japan. He believed in Christian education. For years he operated the Rahn Bus Service, transporting children, including his own, to the Mountain Lake Christian Day School.
George and Gladys were blessed to live a long life together in their own home. George and Gladys missed celebrating their 69th wedding anniversary by one week.
Left to remember a life well-lived, are his wife. Gladys; daughter, Violette (Paul) Bridgman of Okayama, Japan and grandsons, Jeffrey (Hannah) Bridgman and Kevin (Melinda) Bridgman; daughter, Vernelle (Glen) Jones of Greenfield, Iowa and grandchildren, Brian Jones, Brenda (Cameron) Hamer, and Susan (Marlan) Currier; daughter, Rogene (Curtis) Gunther of Waterloo, Iowa and grandchildren, Michael Gunther, Jonathan Gunther, and Joanna (Emanuel) Martinez; son David Rahn of Butterfield, Minnesota; 13 great-grandchildren and sister-in-law, Shirley Rahn.
George was preceded in death by his parents, Abraham and Helena Rahn; parents-in-law, Jacob and Tena Derksen; brothers, Henry and Albert Rahn; brothers-in-law and sisters-in-law, Verna Rahn, Albert and Katherine Derksen, Sam and Esther Derksen, Henry and Rosella Derksen, Eddie and Delphe Derksen, Lando and Ann Derksen and Masel and Hilda Anson.
The family of George Rahn wishes to thank all for kindness and sympathy shown at a time when it was deeply appreciated.