Mountain Lake FFA's Junior Louangsaphakdy performs in second round of National Talent Contest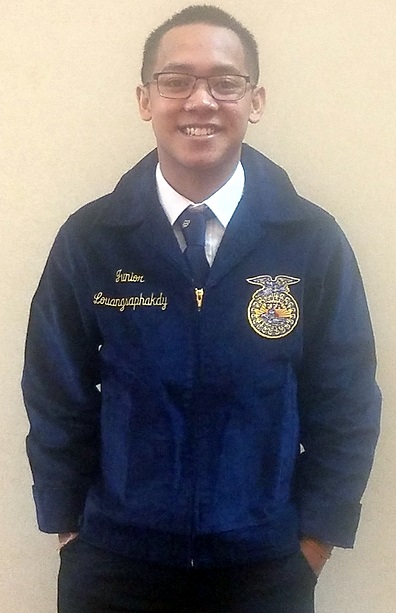 Although Junior Louangsaphakdy, Mountain Lake Public High School senior and member of the Mountain Lake FFA Chapter, did not advance from the second round of 15 competitors to the "Final 3" in the 90th Annual FFA National Convention's Talent Competition, he was able to introduce his talent of beatboxing to the nation.
Junior presented his beatboxing skills this afternoon (Thursday, October 26), performing onstage in Bankers Life Fieldhouse, the home of the National Basketball Association's Indiana Pacers. The contest was broadcast on RFD-TV and livestreamed by FFA New Horizons.
National FFA Talent Contest is sponsored by Mahindra North America, Tractor Supply Company and Wrangler.
Beatboxers mimic percussion-like sounds using their mouths, lips, tongues and voices. Junior started his hobby after seeing others make the music online. Watching tutorials gives him fresh ideas and new techniques, and he enjoys watching other beatboxers who give him inspiration.
Junior began his talent contest road with competition at the regional level, then advanced to the state contest, where he was named the state winner. He then submitted an audition video and application for the national competition over the summer.
Check out the talent competition's second round at: link: #ICanWeWillFFA: https://www.facebook.com/nationalffa/videos/10154807674580458/ …
Watch all 15 performers, or check out Junior at approximately 54:00.
As well, the publication FFA New Horizons posted about Junior's unique musical talent, reported by Abby Marion at: https://www.ffanewhorizons.org/2017/10/25/beatboxing-ffa-does-that-too/)
Throughout the week of of the 90th Annual National FFA Convention, being held in Indianapolis, Indiana, updates are being shared on the Mountain Lake FFA Facebook page: https://www.facebook.com/mtlakeffa/?ref=br_rs.