Mountain Lake FFA's Junior Louangsaphakdy advances to second round of National Talent Contest; watch tomorrow's competition on RFD-TV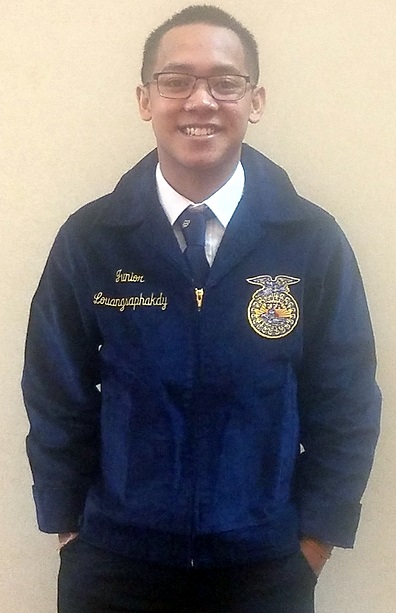 Mountain Lake Public High School senior and member of the Mountain Lake FFA Chapter, Junior Louangsaphakdy has advanced to the second round of the National FFA Talent Competition in connection with the group's national convention being currently held in Indianapolis, Indiana.
Junior, presenting his beat-boxing skills, will square off against 14 other acts from across the United States tomorrow (Thursday, October 26), performing onstage in Bankers Life Fieldhouse, the home of the National Basketball Association's Indiana Pacers. As part of the "Final 15," he hopes with his performance tomorrow to move on to the "Final 3."
The competition on Thursday is being broadcast on RFD-TV (Mediacom hosts this channel), beginning at 4 p.m. Central Time – OR – check it out on the livestream of convention at the following link: https://www.ffanewhorizons.org/2017/10/21/watch-live-stream-ffa-convention-talent-competition-round-2/
Throughout the week of of the 90th Annual National FFA Convention, updates will be shared on the Mountain Lake FFA Facebook page.
On its website, the publication FFA New Horizons has a post about Junior's talents, written by Abby Marion (https://www.ffanewhorizons.org/2017/10/25/beatboxing-ffa-does-that-too/):
Beatboxing: FFA Does That, Too
Over the years, many singers, dancers and musicians have taken to the convention talent stage, but this year, one Minnesota FFA member is performing an unusual talent in this year's National FFA Talent Competition: beatboxing.
Junior Louangsaphakdy, a member of the Mountain Lake FFA Chapter in Mountain Lake, Minn., is a beatboxer.  Beatboxers mimick percussion-like sounds using their mouths, lips, tongues and voices. Louangsaphakdy started his hobby after seeing others make the music online. Watching tutorials gives him fresh ideas and new techniques, and he enjoys watching other beatboxers who give him inspiration.
Louangsaphakdy got his start in FFA through participating in the milk quality and products career development event and saw an opportunity to get more involved and share his ability with other FFA members through the talent competition. Now he enjoys spreading the word about this unique form of art that you can make your own.
"I love that I am able to meet new people through beatboxing," he said.His journey in the talent contest started back home in Minnesota, first with competing on the regional level, then advancing to the state contest, where he was named the state winner. Louangsaphakdy was then eligible to submit an audition video and application for the national competition over the summer. He will be performing this week at convention in hopes of winning the national competition.Abby Marion is a senior at the University of Florida studying agricultural education and communications. An alumnus of the Florida FFA Association, Marion is serving as a reporter for the 90th National FFA Convention & Expo Newsroom Crew.