Children's musical show at Mountain Lake Area Public Library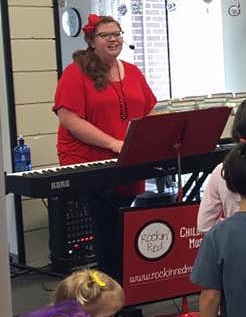 Rockin' Red was rockin' it from the keyboard – and with her Mountain Lake audience of all ages who were ready to get up and dance – during her children's musical show at Mountain Lake Public Library.
Rockin' Red (a.k.a. Leslie Dolby) of Sioux Falls, South Dakota, was on hand at the library today (Thursday, August 3) for a free morning performance sponsored by the Fulda Area Credit Union.
Leslie has a bachelors degree in music and has been performing her entire life. Her primary instruments are piano and saxophone. With two young children of her own, she finds inspiration for writing her songs from everyday life.
Check her out at http://www.rockinredmusic.com/index/ or on Facebook.
Below are a couple of photos from the high-energy goings-on. The photos are by Christina Hanson.