'The Lego Guy' sees the world in plastic bricks – and the possibilities are endless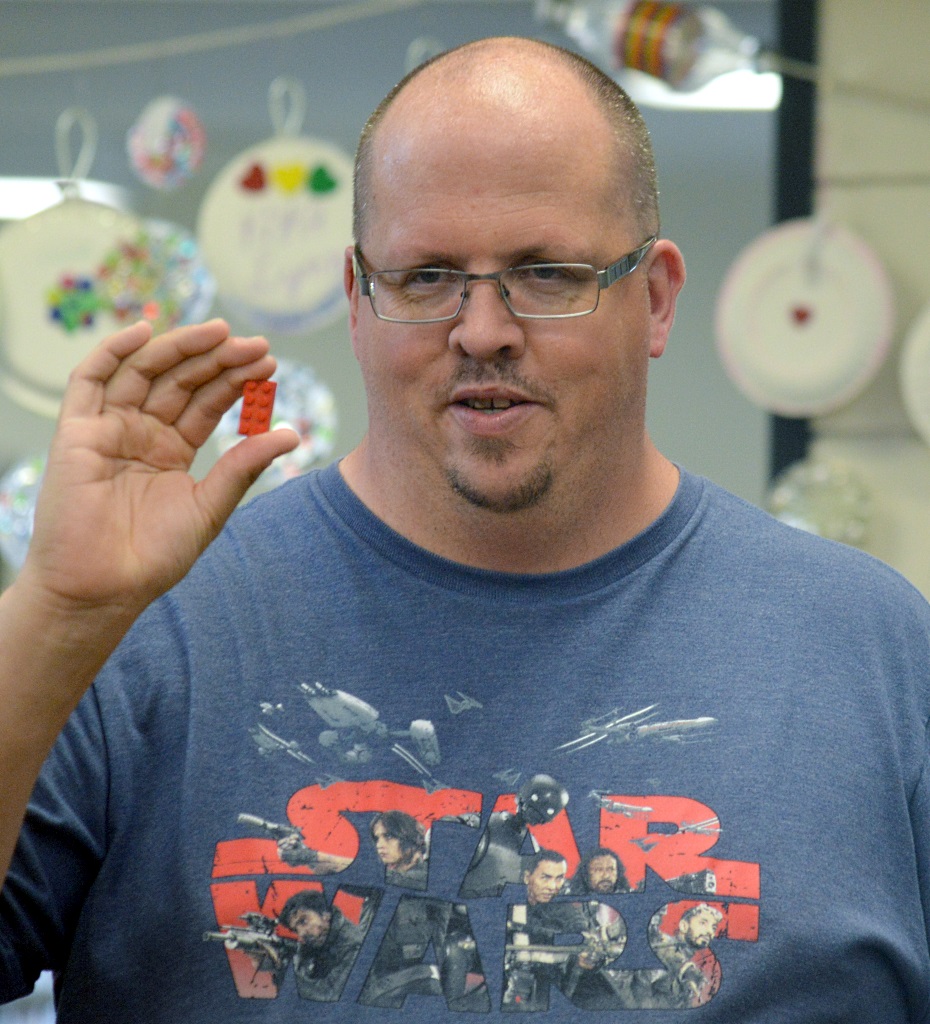 + There are more than 700 billion Lego pieces in the world.
+ There are 915,103,765 ways to combine six, eight-stud Lego bricks. (A math professor, Søren Eilers from the University of Copenhagen in Copenhagen, Denmark – the home country of the colorful interlocking plastic construction bricks – created a computer program to calculate the number of arrangements.)
+ There are more little Lego "people" on earth than human beings.
All Lego facts Curtis Mork – "The Lego Guy" – shared during his Wednesday afternoon, July 12 stint at Mountain Lake Public Library (MLPL) – before he turned the youngsters loose on six tables chock full of Lego pieces for them to use to turn their creative energy, imagination and problem-solving skills into making things.
Mork, of Platteville, Colorado, does traveling Lego performances for children across the nation, but this was his time in Minnesota. His appearance was funded with money from Minnesota's Arts & Cultural Heritage Fund.
Mork opened his presentation with a short talk about the history of Lego – and then it was full speed ahead into the interactive building workshop.
Also on display were some of the Lego sets Mork has built (he has more than 400 Lego sets at home in his personal collection), and most of them are currently available through Lego.
The Coloradan has long been fascinated by Legos, getting his first bucket of the classic bricks when he was six-years-old. Out of that bucket, Mork built a lot robots, because he is also a science fiction fan.
And, Mork, now an adult, shares that what is neat about Legos is that they are for both kids and adults. "You can do anything with them. When you take a bucket of rectangular Lego pieces, the possibilities are infinite. Kids are ready and eager to use their imaginations; adults need to continue to touch on their creative edge as well."
More about Lego
Lego colorful interlocking plastic construction bricks are manufactured by the private company, The Lego Group, in Billund, Denmark. The bricks are accompanied in sets by an array of gears, figurines (called minifigures) and various other parts. Lego pieces can be assembled and connected in many ways – to construct objects, vehicles, buildings and working robots. Anything constructed can be taken apart, and the pieces used to make something else.
The Lego Group began in the workshop of Ole Kirk Christiansen, a carpenter from Billund, who began making wooden toys in 1932. In 1934, his company came to be called "Lego", taken from the Danish phrase leg godt – which means "play well." In 1947, Lego expanded to begin producing plastic toys, and in 1949, the early version of the now familiar interlocking bricks began being produced, under the name "Automatic Binding Bricks."
Since then a global Lego subculture has developed. Supporting movies, games, competitions and six Legoland Amusement Parks (including one at the Mall of America in Bloomington) have been developed under the brand.
MLPL Summer Reading Program special events
Aside from summertime reading – and special events – the program will also feature "Make & Take" crafts and activities at the library every Tuesday afternoon,
The summer reading program is for young readers from preschool age-to-sixth grade.
Story Times for preschool and school-age children will be on Thursdays at 10:30 a.m.
+ Tuesday, July 18 – 10 a.m., CLIMB THEATRE presents Aesop's fable, "The Ant and the Grasshopper." This program is funded with money from Minnesota's Arts & Cultural Heritage Fund.
+ Tuesday, July 18 – 12 p.m. to 3 p.m., "Make & Take" Craft.
+ Thursday, July 20 – 10 a.m., Story Time for ALL ages.
+ Tuesday, July 25 – 12 p.m. to 3 p.m., "Make & Take" Craft.
+ Thursday, July 27 – 10 a.m., Story Time for ALL ages.
+ Tuesday, August 1 – 12 p.m. to 3 p.m., "Make & Take" Craft.
+ Thursday, August 3 – 10 a.m., Outdoor Music Program (weather permitting) featuring Leslie Dolby as Rockin' Red. Bring a lawn chair or blanket to sit on. In case of rain, program will be inside. This program is sponsored by Fulda Area Credit Union.
Tuesday, August 8 – 2 p.m., Graylyn Morris as Brodini, Minnesota's favorite magician with his award-winning Comedy Magic Show.
Photo gallery from 'The Lego Guy' visit