MLPS instrumentalists join with other Minnesota performers – and composers – for Band Pops Concert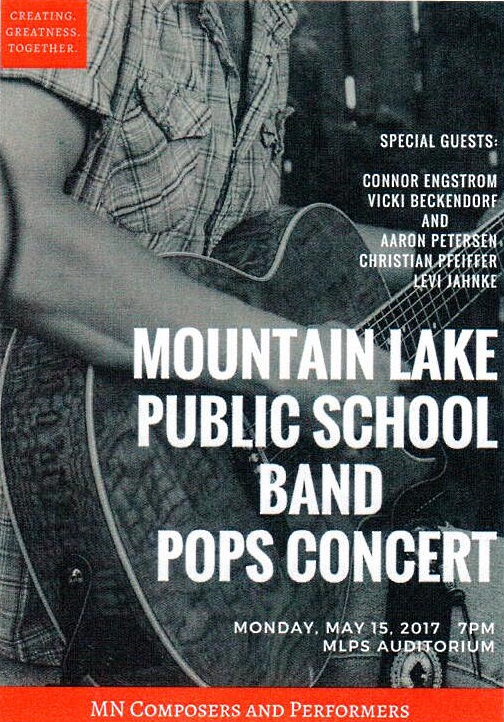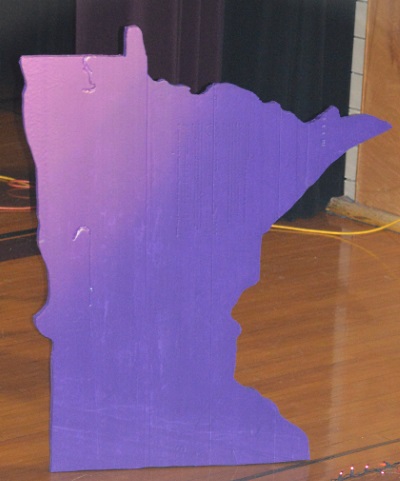 Mountain Lake Public School (MLPS) instrumentalists in grades five-through-12, under the baton of MLPS Instrumental Director Kurt Jahnke, joined with other Minnesota performers, along with composers – including three Mountain Lake Public High School alumni – for the MLPS Band Pops Concert helld Monday evening, May 15, in the MLPS Auditorium.
The end goal for all of the performing musicians was: Creating, Greatness. Together.
Minnesota-style.
You betcha!
Joining the school's band groups were special guests Connor Engstrom, Vicki Beckendorf, Aaron Petersen, Christian Pfeiffer and Levi Jahnke. The trio of Engstrom, Pfeiffer and Jahnke are graduates of Mountain Lake Public High School. Violinist Beckendorf is lead writer at the Observer/Advocate and Petersen is the Mountain Lake Christian (MLC) Music Director (Band and Choir) for grades Kindergarten-through-12. They, along with Kurt Jahnke, presented Jahnke's arrangement of "Fragile," first released by the artist, Sting, in 1987. Sting released the selection as the world was coming to the end of the Cold War, but the lyrics could easily have been written of the world today.
Opening the evening's program was the 6th Grade Percussion Ensemble with "Can, Can," by Jacques Offenbach, arranged by Kevin Lepper. The recognizable melody is often associated with a high-kicking dance performance. The number provided the opportunity for the young percussionists to experience independent playing in an ensemble setting.
A 5th Grade-8th Grade Combined Band followed with the band student favorite, "Rock, Roll, Row Your Boat," by Gerald Sebesky. The fun piece showcased percussionists on drum sets.
The Junior High Percussion Ensemble's selection, "Rubber Biscuit," by Chris Crockarell and Chris Brooks, allowed students to perform on marching equipment and hone independent music skills. The group is open to non-percussionists, and again this year has a mix of wind players and percussionists.
Two selections were shared by the Junior High Band, "Shipwrecked," by Ryan Nowlin and "Mallet Maniacs," by John O'Reilly. "Shipwrecked" presented the instrumentalists with the opportunity to tackle changing key signatures and perfect ensemble-playing. In "Mallet Maniacs," several Junior High percussion "maniacs" were featured, including Landon Boldt, Jose Garnica, Sam Stade, Caden Swoboda and Jordan Wright.
The Junior High Jazz Band performed next, also presenting two numbers, "In The Midnight Hour," arranged by Jerry Nowak and "My Last Nickel," by Dean Sorenson. "In The Midnight Hour" was made famous by Wilson Pickett in 1966, but was also recorded by Tina Turner in 1988 and Tom Jones in 1997. The jazz instrumentalists successfully tried their hand at a common jazz practice called "improvisation" in the song, "My Last Nickel."
The Senior High Jazz Band was next with "Sway," arranged by John Berry and "After Sunset," by Larry Neeck. "Sway" was released in 2003 by Michael Bublé, but was also recorded by Dean Martin in 1954. "After Sunset" featured Mountain Lake Public High School senior – and alto saxophonist – Sam Hirsch on the ballad.
The Senior High Band presented three pieces after the performance by the evening's special guests. They include, "April," by Aaron Perrine; "Dreams Of Fireflies," by P. O'Neill and arranged by Phillips and Megaw and "Prince In Concert," composed by Prince and arranged by P. Murtha. "April" was written by McGregor, Minnesota native Aaron Perrine, who earned his Bachelor of Arts at the University of Minnesota-Morris, and taught for a time as a Music Educator in Minnesota. He currently serves on the Music Faculty at Cornell College in Mount Vernon, Iowa. "April" was commissioned by Farmington (Minnesota) Middle School and was one of the Senior High Band's large group contest pieces earlier this year. The composer for "Dreams of Fireflies," Paul O'Neill, is the founder, guitarist and producer for the progressive rock band, Trans-Siberian Orchestra. This piece featured Connor Engstrom and Vicki Beckendorf, and quotes melodies from Vivaldi's "Winter" (from The Four Seasons) and Mozart's "The Magic Flute." The Prince pieces saluted Minnesota's Prince Rogers Nelson, who was born in Minneapolis and passed away at his home in Chanhassen in 2016. "Prince In Concert" showcased several of his most famous tunes: "1999," "When Doves Cry," "Purple Rain" and "Let's Go Crazy."
A rousing rendition of "Shimi, Shami, Shang," by Chris Crockarell, was the Senior High Percussion Ensemble's presented selection.
Closing out the concert was the 7th Grade-12th Grade Combined Band – and the group's two numbers – "Good Time," by Owl City (a band that hails from Owatonna), arranged by Doug Adams and "Seven Nation Army," arranged by Dallas Burke, and highlighted Connor Engstrom, along with Christian Pfeiffer and Levi Jahnke.
Recognized were this year's senior band performers: Liana Blomgren, Aaron Fast, Andrew Fast, Samuel Grev, Samuel Hirsch, Jaden Hoek, Shadrick Hoek, Emily Jahnke, Lily Kauffman, Dylan Krueger, Nathan Regier, Kalley Rempel, Karen Soutthivong, Brook Sunderman, Hamlock Tanyavong and Kassandra Tellez.
The MLPS Band (#MLPSband) was also live on Twitter during the concert.
Following is a photo gallery from the concert: