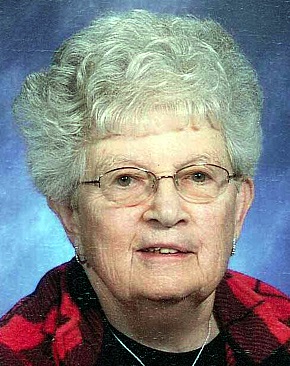 Mass of Christian Burial for 94-year-old Beatrice "Bea" Haala of Sleepy Eye, Minnesota, will be held at 10:30 a.m. on Wednesday morning, February 22, 2017, at St. Paul's Catholic Church in Comfrey, Minnesota. The church is located at 218 Field Street North.
Interment will be in the St. Paul's Catholic Church Cemetery, located north of Comfrey on Highway 258.
Visitation will be at Sturm Funeral Home-Comfrey Chapel on Tuesday, February 21, 2017, from 4 p.m. to 7 p.m. The funeral home is located at 101 Field Street North. A second visitation will be at the church the day of the service from 9:30 a.m. to 10:30 a.m.
Online condolences to the family may be sent to: www.strumfh.com.
Bea Haala passed away on Friday, February 17, 2017, at Divine Providence in Sleepy Eye.
Beatrice "Bea" Haala, daughter of Henry and Anna (Juenemann) Hillesheim, was born on March 11, 1922, in Sleepy Eye. She grew up on a farm in Stark Township, Brown County and attended Country School #39 through eighth grade. Bea spoke German until learning English in school.
On September 9, 1941, Beatrice married Leonard Haala at St. Mary's Catholic Church in Sleepy Eye. The couple lived by Leavenworth, Minnesota; Tracy, Minnesota and Wanda, Minnesota until moving to a farm north of Comfrey in 1946. Bea enjoyed raising chickens on that farm. She worked at Del Monte in Sleepy Eye in the early 1960's, was a bookkeeper for St. Paul's Church in Comfrey, worked at Elaine's Gift Shop in Comfrey and in the Comfrey Public School kitchen. Bea also cooked for many weddings.
She was a member of St. Paul's Catholic Church in Comfrey, where she was an active member of the CCW; the American Legion Auxiliary Unit 244; St. John's Lutheran Home Auxiliary of Springfield, Minnesota; Florentennial Garden Club; Prairie Sampler Quilters Guild; Brown County Home Extension; Catholic Aid Association, which she served as secretary and treasurer, and many card clubs. Beatrice enjoyed gardening and canning, quilting, crocheting, embroidery, traveling – especially her trip to Europe, playing cards – especially bridge, watching the Minnesota Twins, ceramics, bowling with the Comfrey Cats, old-time music and time with her cousins. She had a beautiful back yard full of flowers and won many awards for her rose garden.
She is survived by her children, Patti (Norbert) Wenisch of Searles, Minnesota, Leon (Cheryl) Haala of Springfield and Bruce Haala of Sleepy Eye; grandchildren, Greg, Annette, Mark, Cheryl, Jason, Jadd, Susan, Tamera, Tammy, Becky and Shelley; 23 great-grandchildren; four great-great-grandchildren; sister, Donna Mae (Donald) Schneider of Stoughton, Wisconsin and many nieces, nephews and godchildren.
Beatrice was preceded in death by her parents; husband, Leonard; grandchildren, Brian Wenisch and Shannon Haala; daughter-in-law, Diane Arnold-Haala; brothers, Donald Hillesheim and Alfred Hillesheim; brothers-in-law, Ed Haala and Norbert Haala and sisters-in-law, Rosella Hillesheim, Genevieve Hillesheim and Tillie Haala.
Bea was very kind and had a gentle and loving personality. She had a large family and many friends and will be greatly missed by all.