Margaret Kispert focuses camera lens on the Rose Bowl; Iowa Hawkeyes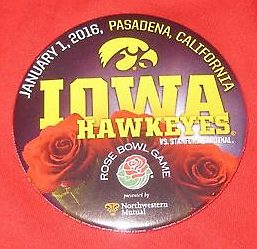 It was a "rosy" start to the new year of 2016 for Margaret Kispert – despite the fact that her Big 10-representing Iowa Hawkeyes were topped in the Friday, January 1, 102nd Rose Bowl Game by the Pac-12's Stanford Cardinal, 45-16.
A whirlwind week – covering a plethora of Rose Bowl events in Pasadena, California with a large cache of cameras and lenses – presented Kispert with memories of a lifetime. "The team finished the season 12-2; plenty of which to be proud. Those two losses were our last two games; the Big 10 Championship against Michigan State and the Rose Bowl. We have lots of talent returning for next season, too. The players, coaching staff and all of us covering the activities were able to experience so many special things," she recently recalled during a return visit to Mountain Lake to the home of her parents, Mark and Mary Kispert.
The 20-year-old Kispert, a 2013 graduate Mountain Lake Public High School, is a student at the University of Iowa in Iowa City, Iowa. She is also a photographer for The Daily Iowan. The Daily Iowan is a multi-faceted news media organization, which provides fair and accurate coverage of events and issues pertaining to the University of Iowa, Iowa City, Johnson County and the state of Iowa. This newspaper is the largest college news organization in the country and has been serving those communities since 1868. It is funded through donations.
Kispert's avid interest in photography dates back to high school and time spent taking pictures for the Mountain Lake Public High School annual. "When I went to Iowa City as a freshman in 2013," shares Kispert, "I just wanted to do something; to be involved and be a part of the school. After I showed them some of the basketball photos I took in high school, I was offered a job with the newspaper."
Kispert began taking photos of random stuff for the Metro and Feature sections, as well as at political events, before moving on to sports photography – Hawkeye football, women's and men's basketball and baseball. Last winter, she had the opportunity to shoot the Women's NCAA (National Collegiate Athletic Association) Basketball Tourney.
Her mission in Pasadena, along with the other The Daily Iowan photographer, was to provide – in unbiased fashion – what the entirety of Rose Bowl "looked" like; reporting what she saw. "Whenever we are shooting a project," explains Kispert, "we are not allowed to wear any Hawkeye gear; we have to remain neutral, and this rule helps us keep that in mind."
Kispert's trip to the big event, however, almost did not happen. "The newspaper was originally sending two photographers – myself and a second one. However, I believed that another photographer – a senior at Iowa – Alyssa Hitchcock – whose home is just 30 minutes away from Pasadena – should have the opportunity to go and shoot the assignment," Kispert lays out. "She had done awesome photography work during the season, and it (Hawkeyes in the Rose Bowl) was happening right in her back yard."
So, Kispert backed out of the opportunity in order to allow her senior co-photographer to cover the activities. As fate would have it, the editor-in-chief contacted her to let her know that changes made to staff had opened up a spot for Kispert to make the trip – and to photograph everything in her sight.
The long list of events covered during the week included Iowa Press Conference, the Stanford Press Conference, both the Hawkeye and Cardinal open practices, both school's Media Days, the coaches' conference availabilities, a one-on-one with the University of Iowa's new President Bruce Harreld, the Hawkeye Huddle pep rally and the "Stanford side" of the Lawry's Beef Bowl meal spread (Stanford was served the meal one night, Iowa another). "It was the first time an opposing team's newspaper had covered their opponent's event," regales Kispert. "That was pretty special."
She even got to know a few of the Cardinal football players, including speedy running back and return specialist phenom, 19-year-old Christian McCaffrey, runner-up to the 2015 Heisman Trophy. McCaffrey had a record game in the Rose Bowl. "He was very nice; not as big in build as I thought he might be . He even plays the piano," says Kispert.
On Game Day, Kispert was up early to get to the Rose Bowl Parade route by 5:30 a.m. – and then headed to the football game. "The day just kept going and going and going," reflects Kispert. Before she could rest that night, though, a football photo slideshow had to be completed.
Kispert's additional coverage duties included the newspaper's pre-game preview, and she was in charge of the paper's post-game double truck photo spread.
With all of her shots tallied, Kispert estimates that she took approximately 3,000 game photos; and altogether around 5,000.
In between the long hours of covering the photo beat, Kispert squeezed in a tour of Hitchcock's home stomping grounds with her photographer friend – the perfect tour director.
When she returns to campus for second semester, she will hand over her editor "baton" to another – but will be available to "just hang around to help. I will stick around to shoot sports until the end of the school year," Kispert explains, "but I won't be shooting a lot of other projects."
As far as shooting photos next school year – Kispert is undecided. "Who knows? But, I know that my pre-med courses will require more of my time and focus (Kispert is majoring in communications and will add a double major in sports medicine, with plans to take some time off before entering medical school, specializing in surgery).
To top off this experience, Kispert has recently learned that she will be receiving a sports photography award from the Iowa Newspaper Association for a football photo she took on September 5, 2015 during the Hawkeyes home game against the Illinois State Redbirds.
The back story for that award-winning shot demonstrates what photographers – most notably sports photographers – must just take in stride. "It was about 135 degrees on the field – everybody was hot and sweaty. When I returned home, I discovered that I had a piece of the turf 'ironed' right into my legging from where I was kneeling to shoot.
"I guess that's all part of the game," a line Kispert delivers with a punch.