Sawyer Carrison in pair of photographs in Capstone title
Parents of young children know how difficult it is to get them to sit still long enough to take a photograph.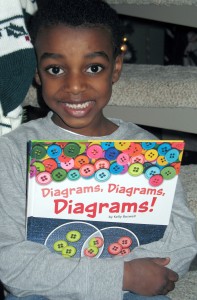 So imagine getting your five-year-old son to participate in several photo shoots (along with other children his age) in order to take a set of photographs for inclusion in one title of a children's non-fiction educational book series.
In spite of knowing what  "side deals" this cooperation might encompass, John and Marny Carrison of Mountain Lake, bravely agreed to allow their son, Sawyer, who was five-years-old last year at the time of the photo sessions, to take part in the project. In the end, the charismatic Sawyer – complete with huge grin  – relished the role of photographic model. Of course, he was able to meet and get to play with the other participating kids, creating a super sidebar experience for Sawyer.
Sawyer appears in the 2013-published selection, "Diagrams, Diagrams, Diagrams!," by Kelly Boswell. The title is part of the Displaying Information set from Capstone Publishers,which is based in Mankato, Minnesota. The book series shares with young readers fun and useful ways to find and share data.
The connection made between Capstone and Sawyer is further proof that "it's a small world after all." Mom Marny, a local hair designer at Paradise Cove, manages the stylish look of her client Jamie Morin, also of Mountain Lake – whose daughter-in-law, Marcy Morin of Mankato, is employed at Capstone. Jamie knew Marcy was looking for an eclectic variety of children to photograph for inclusion in the book. Voila! Sawyer was soon on his way to Mankato and posing for the cameras.
Says Sawyer, "It was fun. I got to make things. And my pictures ended up in a book. You should read it; it's good. It's a learning book."
Capstone has requested Sawyer and his smile for photographs for use in other books three additional times, however, the scheduling was not able to be worked out.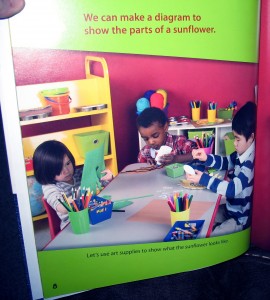 The book answers the questions: "What is a diagram?" and "Which one should you use?" Young readers can find out all about diagrams and the great ways they can help sort all kinds of information.
Capstone Press published its first books – 48 titles – in 1991. Today, as Capstone Publishers, the company is a publisher of children's books and digital products that focuses on the educational market. Capstone publishes nonfiction, fiction, picture books, interactive books, audio books, literacy programs and digital media. Imprints and divisions include Capstone Press, Compass Point Books, Picture Window Books, Stone Arch Books, Red Brick Learning, Capstone Digital and Heinemann-Raintree.
Having his photograph featured in a book for children has been useful in an additional way, Sawyer's parents have learned. "Sawyer has become more interested in reading books – because he has been a part of the whole book publication process – and is curious find out about other selections," reflects Marny.