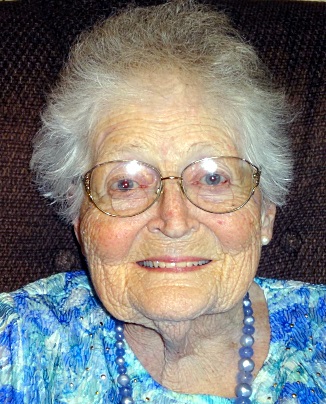 Funeral services for 90-year-old Sylvia Janzen of Mountain Lake, Minnesota, formerly of Darfur, Minnesota, will be held at 11 a.m on Friday morning, December 15, 2017 at St. John's Lutheran Church in Darfur. The church is located at Minnesota State Highway #30 and Adrian Street. The clergy will be Pastor Wes Bruss.
Interment will be in St. John's Lutheran Cemetery, located ½ mile west of Darfur on Highway #30.
Visitation will be Thursday, December 14, 2017, from 4 p.m. to 7 p.m. at Sturm Funeral Home-Mountain Lake Chapel. The funeral home is located at 420 10th Street North in Mountain Lake, Minnesota. Visitation will continue at the church the day of the funeral service from 10 a.m. to 11 a.m.
Online condolences may be sent to the family at www.sturmfh.com.
Sturm Funeral Home-Mountain Lake Chapel is handling the arrangements.
Sylvia Janzen passed away on Sunday, December 10, 2017, at Laurel's Peak Rehab in Mankato, surrounded by her loving family.
Sylvia Marie Janzen was born on May 10, 1927, in Wheaton, Minnesota, the daughter of Feigh and Grace (Ware) Jennings and spent her first five years of education in a one-room school, then graduated from Washburn High School in Bloomington, Minnesota in 1945. After high school, she went to Nurse's Training School for two years.
She was united in marriage to Oliver Janzen on May 30, 1947, in Brainerd, Minnesota. To this union were born four boys and one girl. The couple returned to Darfur in 1949, where they lived and farmed together until retirement.
The couple wintered in Arizona. Oliver passed away in 1998 after 50+ years of marriage.
Sylvia was a member of St. John's Lutheran Church in Darfur and was active in several committees.
She taught 4-H sewing and many sewing classes when in Arizona. She was a talented seamstress and sewed many wedding dresses. Quilting and crocheting were also among her many talents. Her passion for sewing led her to use embroidery machines to create beautiful greeting cards and ornaments, which she joyfully distributed to everyone in her life. For the past several years she created colorful artwork which is still on display in people's homes and businesses.
Her determination made her a survivor of Graves' disease at age 49, breast cancer at age 54 and open-heart surgery at age 73. At the age of 90, she celebrated a wonderful birthday party with over 100 of her family and friends in attendance.
Sylvia loved to travel and she will be remembered for her charming wit, personality, kindness and compassion.
She is survived by her daughter, Lyn Bockert and friend, Tony Albanito of St. Paul, Minnesota; her sons, Phillip Janzen and wife, Sandra of Mankato, Wayne Janzen and wife, Pamela of Hastings, Minnesota, David Janzen and wife, Lori of Rush City, Minnesota and Gary Janzen of Darfur; sisters, Patricia McCallum and husband, William of St. Paul, Minnesota and Kathleen Greenhouse and husband, Don of Chautauqua, New York; eight grandchildren; 18 great-grandchildren and three great-great-grandchildren.
Preceding her in death by her parents and her husband of over 50 years, Oliver.
The family would like to thank the staff at Primrose, Laurel's Peak and St. Croix Hospice for their wonderful care and thoughtfulness.