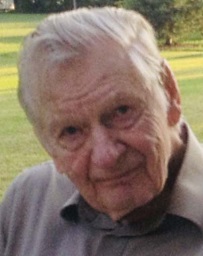 Funeral services for 94-year-old Leo John Harder of Mountain Lake, Minnesota, will be held at 10:30 a.m. on Wednesday morning, December 13, 2017, at Bethel Mennonite Church Church in Mountain Lake. The church is located at 301 9th Street North. The clergy will be Pastor Roy Kaufman.
Interment will be at Mountain Lake City Cemetery at a later date.
Visitation will be at Sturm Funeral Home-Mountain Lake Chapel, on Tuesday, December 12, 2017, from 4 p.m. to 7 p.m. The funeral home is located at 420 10th Street North.
A second visitation will be at the church the day of the funeral service from 9:30 a.m. t 10:30 a.m.
Online condolences may be sent to the family at www.sturmfh.com.
Sturm Funeral Home-Mountain Lake Chapel is handling the arrangements.
Leo Harder passed away on Saturday, December 9, 2017, at the Good Samaritan Society of Mountain Lake-The Village.
Leo John Harder was born on September 21, 1923, the son of Jacob J. and Anna (Janzen) Harder, on a farm southwest of Mountain Lake. He attended a country school for eight years and graduated from Mountain Lake High School in 1942. He was drafted in 1944 during World War II. Because of his faith, he was a conscientious objector and entered Civilian Public Service (CPS) where he worked in soil conservation in Denison, Iowa; fighting forest fires in California,and public health work in Gulfport, Mississippi. After his release in 1946, he returned to Mountain Lake where he farmed for several years with his brother, Jake.
While in Gulfport, Leo met Ruth Burkhard who was working there with the Mennonite Central Committee (MCC). Leo and Ruth, daughter of Henry and Lydia (Lefever) Burkhard, were married on September 13, 1947, in Orrtanna, Pennsylvania. Together they farmed northeast of Mountain Lake until Ruth was diagnosed with cancer in 1953. They then moved to town where Leo collected milk for the creamery. Ruth passed away in 1958. Three children – Gordon, Charles and Lois – were born to this marriage.
Leo married Gladys E. Harder, daughter of Henry G. and Helen (Falk) Harder, on September 26, 1959 in Mountain Lake. Two daughters – Kathleen and Mary – were born to this marriage. Leo worked at and managed a number of agribusinesses during his career. During his retirement, he and Gladys worked several years through Mennonite Voluntary Service in Fort Collins, Colorado, and at the International Guest House in Washington, D. C. He also managed the Care & Share Thrift Shop/Ten Thousand Villages in Mountain Lake for more than eight years.
Leo was baptized by I. J. Dick in 1941. He was an active member of First Mennonite Church all of his adult life and served on various committees. He was a committed Christian and lived out his faith in a quiet manner.
Leo's survivors include his wife, Gladys, and children, Gordon (Eva Toews), Charles, Lois, Kathleen (Merin Kouay) and Mary (Wes Mark); six grandchildren, Willmar (Hannah Neufeld), Elisabeth (Ramont Schrock), David (Rachel Byler), Jordan (Lindsey Edwards), Annie (Derek Reese) and Sophia; 10 great-grandchildren, Elias, Amos, Reuben, Maria, Jonathan, Anna, Andrew, Annalise, Camden and Devin; two brothers, Lawrence (Kathy Suderman) and Walter and numerous nieces and nephews.
He was preceded in death by his first wife, Ruth; his parents; five siblings and their spouses, Theresa, Harry (Anna Harder), Jacob (Estella Loewen), Anna (Marvin Nickel), Albert (Bessie Zimmerly) and sister-in-law, Joyce Berg Harder.