Minnesota Farmers Union, Farmers Union Insurance Agency invest in 40 Square as farmer health care option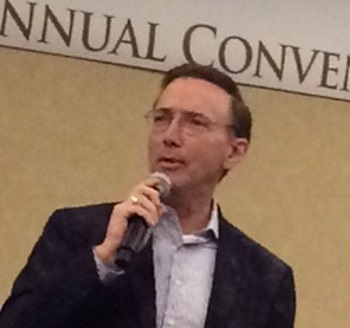 Local representatives to the 76th annual Minnesota Farmer Union (MFU) Convention, held at the Ramada Plaza in Minneapolis from Friday, November 17 through Sunday, November 19,  included Brian and Therese Romsdahl of Butterfield.
The convention included discussion of MFU policy to be presented to the Minnesota State Legislature, election of the president and vice-president, election of delegates to the National Farmers Union Convention, luncheon with a panel of Minnesota gubernatorial candidates, comments from Minnesota Senator Amy Klobuchar, discussion from Minnesota state senator and representative candidates, an appearance by Minnesota State FFA Officers – and the keynote address from renowned Minnesota meteorologist Paul Douglas.
Douglas, who spoke at the Saturday evening, November 18 banquet, presented a the speech, "A Rapidly Changing Climate: Threat – and Opportunity." A Q & A time was included as part of the presentation.

Speaking at the Friday evening, November 17 opening reception, hosted by MFU and the Farmers Insurance Agency, were Minnesota Attorney General Lori Swanson and Congressman Tom Emmer.
Re-elected as MFU President was Gary Wertish, with Bryan Klabunde returning as Vice-President.
The 2017 award winners honored included Hannah Wilts as Ag Educator of the Year, Carolyn Lange as Ag Communicator of the Year and Dale and Grace Fladeboe as Lifetime Achievement Awardees. Bob and Tracie Berg of Redwood County Farmers Union will be the next Farmers Union Enterprise Leadership Couple for Minnesota.
Major announcement coming out of convention
On Friday, November 3, the MFU Executive Committee voted to approve the organiation's purchase of shares in 40 Square Cooperative Health Solutions, a new heath care cooperative for Minnesota farmers.
Minnesota lawmakers concerned about rising health insurance costs passed a bill last session allowing agricultural co-ops to offer "self-insurance" plans — something most large businesses provide to employees. Farm groups, including the MFU, had lobbied for the change. Ever since farmers in Jackson County started organizing for fairer commodity prices in the early 1910s, MFU, a grassroots organization, has had its heritage in the cooperative model. The executive committee sees 40 Square as a relevant example of farmers forming a cooperative to collectively address a need.
The group's lobbyist, Thom Petersen, stated that farmers often told him their spouse has to work off-the-farm so the family can have affordable health insurance.
Farmers Union Insurance Agency (FUIA), an MFU-owned company serving the insurance needs of Minnesotans, supports the marketing efforts of 40 Square. The majority of FUIA agents have signed up to write 40 Square health care policies for their farmer customers.
40 Square Cooperative Solutions was was founded by Cooperative Network — the Minnesota and Wisconsin state trade association for cooperatives — and United Farmers Cooperative, an agricultural supply cooperative based in Winthrop. Farmers must meet certain criteria to sign up, including having at least one common-law employee on the farm who is issued a W-2. That could include a spouse that does bookkeeping for the farm.
To be eligible, farmers must also buy $100 of voting stock and $1,000 worth of common stock during the first year. There are six health insurance plans being offered. That can include plans within the program or other offerings, including those on the state-based exchange MNsure. To move ahead, 500 families are needed to sign up, and so far, response has been strong.
MFU – 'Standing for Agriculture. Fighting for Farmers.'
Minnesota Farmers Union (MFU) works to protect and enhance the economic interests and quality of life for family farmers and ranchers and rural communities. The group supports farmer-owned and consumer-owned cooperatives, local purchasing power and building strong communities. Membership is open to farmers and non-farmers.
As the voice of agriculture in Washington, D. C. – and St. Paul – MFU's platform promotes:
Grassroots advocacy.
A strong, effective Farm Bill.
Health care.
Renewable energy.
Local food production.
Broadband.
Through efforts of education and assistance to both farmers and consumers, MFU supports:
Developing farm leaders.
The Minnesota Cooks program.
Youth leadership camps.
4-H.
FFA.
Beginning farmers.