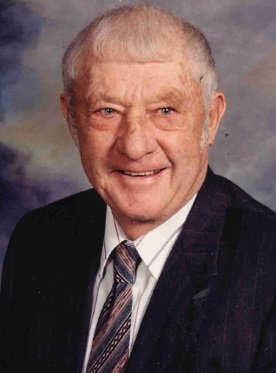 Funeral services for 95-year-old Ben J. Adrian of Mountain Lake, Minnesota, will be held at 10:30 a.m. on Thursday morning, November 30, 2017, at Bethel Mennonite Church in Mountain Lake. The clergy will be Pastor Galen Kauffman and Pastor Merwin Dick. The church is located at 301 9th Street North.
Interment will be in Mountain Lake City Cemetery, located on 10th Street North at Midway Road.
Visitation will be on Wednesday, November 29, 2017, from 4 p.m. to 7 p.m., at Sturm Funeral Home-Mountain Lake Chapel. The funeral home is located at 420 10th Street North. Visitation will continue at the church the day of the service from 9:30 a.m. to 10:30 a.m.
Online condolences to the family may be sent to www.sturmfh.com.
Sturm Funeral Home-Mountain Lake Chapel is handling the funeral arrangements.
Ben J. Adrian passed away on Friday, November 24, 2017, at Sanford Medical in Sioux Falls, South Dakota.
Ben J. Adrian was born on September 8, 1922 on the family farm in Butterfield Township, Watonwan County, the son of John and Nettie (Penner) Adrian. He was baptized at the First Mennonite Church in Mountain Lake. Ben attended country school through eighth grade, and graduated with honors from Butterfield High School in 1942.
On October 4, 1945, Ben was united in marriage to Caroleen Harder at the First Mennonite Church and they made their home on a farm one mile south of Mountain Lake. Together they farmed the land, raised turkeys on the range and brought up their two sons, Mike and Jonathan. Ben was recognized as a "Jaycee Young Farmer of the Year" in 1954. He was born on a farm and kept that hardworking nature that was instilled in his upbringing throughout the years.
He was passionate about farming; so passionate that he was always progressive in looking at and embracing the latest farming methods, and especially new technology. In fact, he would look forward to it, and comment that "if only that (technology) had come sooner." He was a steward of the land and embraced conservation. Ben was an avid supporter of renewable fuels and resources. He spent many years growing Foundation seed stock for Minnesota Crop Improvement Association.
Ben never gave up putting forth effort to keep the farm on task; however, he always found a little time to get away to take his family on trips. He always enjoyed the adventure of exploring new places. He traveled many places including the United States, Australia, Europe, Ecuador and Brazil. Ben's favorite pastime was fishing and more recently gardening. He served on the Mountain Lake Christian School Board and held various positions at Bethel Mennonite Church throughout the years.
After Caroleen's death in 2001, Ben married Eleanor Hiebner on April 17, 2004.
Ben is survived by his wife, Eleanor; sons, Mike (Betty) and Jonathan (Brenda); grandchildren, Matthew (Michelle), Jaclyn (Dan) Myers, Nathan, Scott, Rachelle (Travis) Splechter, Melanie (Daniel) Nelson and Bryce; great-grandchildren, Caden Adrian and Carson Myers; sister, Agnes Braaten; brothers-in-law, Jim (Donna) Lepp and Ivan Harder; sisters-in-law, Margaret Adrian and Carol Harder; Eleanor's children, Grace (Arnold) Harder, Lois (Roger) Reimer, Diane (Dennis) Goodwin, Sharon (Glen) Kleinsasser, Lauren Steinle and Donald (Kari) Hiebner and many nieces and nephews.
He was preceded in death by his first wife, Caroleen; three sons, Paul Kevin, Mark Anthony and Timothy Joel; his parents; sister, Annie Lepp; brothers, Dave and John; brothers and sister-in-law, Aasten Braaten, Glen Harder and Donald Harder, and Evelyn Adrian; nephews, David Jr. and Harry Adrian; Eleanor's daughter and son-in-law, Lynette Steinle and Harvey Gilgert and many other relatives and friends.