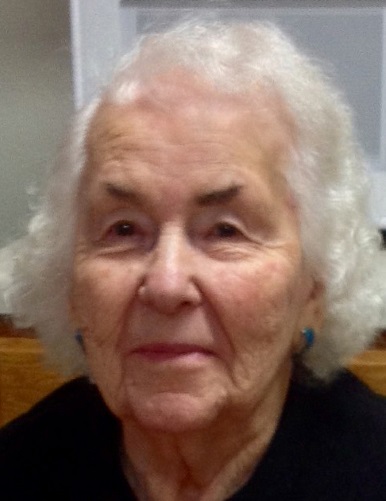 Funeral services for 90-year-old Arlene Franz of Westbrook, Minnesota, formerly of Mountain Lake, Minnesota, will be held at 10:30 a.m. on Wednesday morning, October 11, 2017, at Bethel Mennonite Church, located at 301 9th Street North.
Interment will be in Mountain Lake City Cemetery, located on 10th Street North at Midway Road.
Visitation will be Tuesday, October 10, 2017, from 4 p.m. to 6 p.m. at Sturm Funeral Home-Mountain Lake Chapel, located at 420 10th Street North. A second visitation will be held at the church the day of the service from 9:30 a.m. to 10:30 a.m.
Online condolences may be sent to the family at: www.sturmfh.com.
Sturm Funeral Home-Mountain Lake Chapel is handling the arrangements.
Arlene Franz passed away on Thursday, October 5, 2017, at Peterson Estates in Westbrook.
Arlene Frances Shewmaker was born in Kimball Township, Jackson County, on July 19, 1927, the daughter of Percy and Mary (Sabolick) Shewmaker, and the sister of Ruth. She grew up in Kimball Township and attended a country school before attending high school in Mountain Lake. Arlene was a 1945 graduate of Mountain Lake High School. This is where she met and fell in love with Martin "Bud" Franz. In their usual style of not liking lots of  fuss or being the center of a celebration, they left notes for their parents, drove a Model T to Union City, Tennessee and were married on November 1, 1946. This union lasted 69 years, ending with Bud's death in 2015.
She was known by many names; to the members of Bethel Mennonite Church, she was Arlene; by the Shewmaker side of the family, she was known as "Jackie" and "Frances;" on the Franz side of the family and by her many friends, she was called "Boots." These names left her children never knowing which name to use in their introduction.
Arlene was a fantastic cook with a huge love of life. Many friends and family timed their visits around meal times knowing that they'd be invited to sit around her table. Her table was a gathering place for a great meal, good stories and laughter. Arlene was a lifetime farmer and partner with Bud on their farm. She was an avid reader and a Mountain Lake Garden Club member.
When reflecting on her life, Arlene said her happiest times were camping in the Black Hills of South Dakota. Arlene, Bud and their five children slept in a tent, cooked meals on a camp stove and sat together around a campfire. It was a time to make family memories. Arlene had a deep faith in God and never passed up an opportunity to share her knowledge of scripture.
Left to cherish Arlene and her memories, are her children, Margaret (Jim Kliewer) Ringham, Elaine (Roger) Kvam, Linda Franz, Martin (Cookie) Franz and Andrew (Becky) Franz; numerous grandchildren; great-grandchildren and great-great grandchildren, along with many family and friends.
She was preceded in death the love of her life, Bud Franz; her parents; sister and great-grandson.
Arlene would want us all to share our table, tell our stories and cherish God and family. Blessed be her memory.