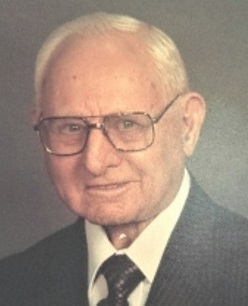 A graveside service for 97-year-old Vernon C. Adamson of Plover, Wisconsin will be held 12 noon on Saturday August 19, 2017 at Lakeside Cemetery in Fairmont, Minnesota.
Vernon C. Adamson passed away on Thursday, August 3, 2017 at the Whispering Pines Assisted Living Center, while under the care of Heartland Hospice and his beloved family.
Messages of Sympathy may be sent to the family online at www.kramerfuneralhome.com
Vernon Carl Adasmon was born on October 26, 1919, the son of William Adamson and Edith (Erickson) Adamson. He was born on a farmstead just north of Triumph, Minnesota, in Martin County. Vernon grew up in a very close-knit Swedish Covenant Community and spoke fondly of his early childhood friendships. After graduating from the eighth grade, he took up full-time family farming, as did most Martin County boys his age in those days.
William, Vernon's father, died when Vernon was 19-years-old. During World War II, when many young men were serving in the military, Vernon's widowed mother appealed to the military draft board in Fairmont to allow him to stay home and care for her, and for his four younger sisters. The board granted her request. Although he did not serve in the military, Vernon did regret not having the opportunity to do so, and as a result, was very patriotic throughout his life.
On January 24, 1948, Vernon married Donna Mitchell, at Sherburn, Minnesota. After their marriage and honeymoon to Niagara Falls, New York, Vernon and Donna settled into their own family farm life. In the 1960s, they left the financial risks of farming as a vocation to take up stable factory and implement work in neighboring St. James, Minnesota and then Mountain Lake, Minnesota. Vernon was, perhaps, Land O'Lakes most loyal employee, drying milk and making butter from December 1960 until his retirement in May 1986.
In 1993, they moved to Stevens Point, Wisconsin to live in a lovely duplex seemingly built just for them, right next-door to their daughter, son-in-law and two grandsons.
Until Donna's death on February 1, 2006, the two of them enjoyed homemaking, gardening, going for drives, garage-sales and church life. They especially loved to have lunch at the Lincoln Center, and enjoyed the many friendships, the music and the services, there.
Survivors include daughter, Beverly Sirvio, and her husband, James, of Stevens Point; two sons, Wayne Adamson and his wife, Ruth, of Springfield, Minnesota and Jerald Adamson and his wife, Kathy, of Vadnais Heights, Minnesota; sister, Doris Krugen, of Cambridge, Minnesota; nine grandsons, Scott, Eric and Joel Adamson, Ryan and Brent Sirvio and Samuel, Hans, August, and Andreas Adamson; 12 great-grandchildren; as well as nieces and nephews and other relatives.
Vernon was preceded in death by his parents; his wife, Donna; brother, Arnold; sisters, Eleanor, Marion and Elaine; one grandchild; a daughter-in-law, Paula and other relatives.
Special thanks is extended to John Zdrazil of Elbow Lake, Minnesota, for his pastoral care; the caring staff at The Lodge at Whispering Pines, in Plover; as well as Heartland Hospice Care, the Boston Funeral Home, Stevens Point and the Kramer Family Funeral Home, Trimont, Minnesota.