Approve adding RRC to MLA Wolverines' boys/girls cross country pairing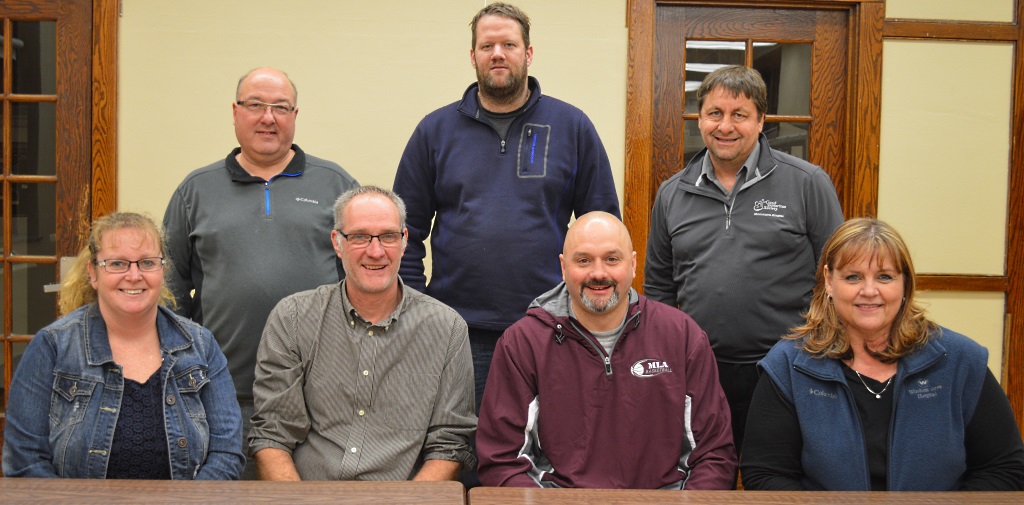 + Update – According to MLPS Activities Director Tim Kirk, both RRC and MLC have approved pairing with MLPS for boys and girls cross country this fall. In addition, Kirk stated that the Minnesota State High School (MSHSL) has also given its "OK."
The Mountain Lake Public School (MLPS) School Board held a special meeting on Monday, August 7, at which time they heard a presentation by Mark Lenz of MLA Architects of St. Paul and Gary Benson and Tony Sjolander of construction management firm Krauss-Anderson (KA) of Edina – and hired the two companies to move forward on a school building project.
Lenz was hired to design a building project for a 6% fee, with MLA Architects honoring the firm's past proposal from 2014.
KA was hired as construction managers and advisors for a lump sum pre-referendum fee of $6,500, to be credited back if the referendum passes – with a 3% post-referendum construction management fee.
Both hires were approved unanimously.
MLA and KA will now confer with MLPS Superintendent Strom to collect information connected to the facilities planning process, and will be in attendance at the school board's Monday, August 21 regular meeting. At that time, the target action will be to set objectives and goals, and decide how to direct priorities.
Board members had earlier met with Lenz to discuss a district building project on Thursday, June 22. That move was preceded by a school board decision at a Monday, June 12 special meeting to break with former architect Paul Youngquist of Architects Rego + Youngquist, Inc. (ARY) of St. Louis Park due to a lack of confidence.
Actually, the school district's history with Lenz is lengthy. During July 2014, days after the school board created the current building committee, that committee consulted with Lenz about projects, problems, etc. facing the district. The committee had consulted MLA Architects because the company already had a thorough knowledge of the building needs and issues of the campus because Lenz had done work for the district in 2012 in his role with Johnson Controls. Johnson Controls was the firm handling the planning for the earlier building project proposal that went down to defeat in December 2012.
Benson and Sjolander, during their presentation to the board, went "back to the basics" – running through the complete facilities planning process – of which much of the information has already been collected.
Stated Sjoland, "We need to have science and measurable metrics behind the 'whys' about items included in this or any project; to present the big-pictured strategic perspective. The 'whys' look very different in every district; from a program that no longer fits into a space due to growth and hands-on learning, more collaboration between students, emerging programs that need room and the physical condition of the building. Getting the 'whys' gives you the parameters on the project."
MLPS School Board Director Matt Gohr noted that, "First we need to address the needs here; get the whole building caught up. You know, the basic, 'not fun' stuff. Then we can tack on more. We can't keep taking from the General Fund to do the basics."
Pleasing to school board members was the affirmation by both firms that in-person meetings would occur every week or every two weeks.
"Mark (Lenz of MLA) will give you the design, we (KA) are the construction managers," laid out Sjolander. "We are incentivized to get local contractors involved; they are the people who are going to be part of paying for this. We do this because it is the right thing to do, and these contractors are right here."
Inserted Benson, "It will be the process of putting the puzzle pieces together."
Added Sjolander, "You (school board) input through your architect to fit the budget you can afford. The strategy process is twofold – design for need and design for budget. It will be dollar-driven."
The combination of the two companies places Lenz as the architect, and KA as supervisors of the construction of the project as construction managers, replacing the general contractor.
Also addressed was the Ag2School tax credit law on farm property taxes levied for school bonding projects that was passed during this year's Minnesota State Legislative session. "It's law until someone changes it," laid out Benson. "They have to find the funding for it to keep it, but we do know that is there for two years."
In Minnesota, the chances of a local school district getting the money it wants to build a new facility or improve existing buildings can depend greatly on where it is located In metropolitan areas, most school construction projects get approved by local voters; in rural districts, these proposed tax increases often tend to fail.
This discrepancy led to legislative action this year. New state tax credits will offset 40% of a school district's bond debt load that is attributed to agricultural property-tax payers. Agricultural land accounts for a majority of the tax base that must pay for any project.
The Ag2School credit applies to all current and future capital referendums. As an example, if a farmer's levy for a school building referendum was $25 per acre, the state would provide him or her with a credit of $10 per acre (40%).
The MLPS District has an 84.5% ag tax base.
Cross country pairing
Additionally, board members on hand unanimously approved a sports pairing agreement with Red Rock Central (RRC) for this fall's cross country season. Currently MLPS and Mountain Lake Christian (MLC) are unified in a sports pairing agreement, including for cross country. That union participates in athletic events as the Mountain Lake Area (MLA) Wolverines.
The RRC School Board and MLC Board of Directors have yet to meet to take any action on the proposal, however both MLPS Athletic Director Tim Kirk and MLA Wolverines Cross Country Head Coach Kyle Blomgren have had contact with the two other schools and believe they will also approve the agreement.
The only cost to the MLPS School District will be in the form of more uniforms, if necessary. Funds from program activity fees will cover that cost.
All practices will be held at Mountain Lake, with a goal to strive to have two joint practices. Otherwise, RRC runners will practice at their own school site.
Travel expenses to bring RRC runners to practice in Mountain Lake would be the responsibility of the RRC School District.
Background information on the proposed pairing, as presented at the school government body's Monday, July 17 meeting, is as follows:
+ On Saturday, July 8, MLPS Superintendent Bill Strom – and a MLPS School Board member – were notified of the possibility that Red Rock Central (RRC) was interested in pairing with Mountain Lake Public/Mountain Lake Christian for cross country for the 2017-2018 school year.
+ Parents from RRC, who have children that wish to participate in cross country, were interested in pairing with Mountain Lake Public/Mountain Lake Christian. They were interested because they wished to remain in the Red Rock Conference and fely that the Mountain Lake Area (MLA) Wolverine coaching staff would make a positive contribution to the success of the athletes.
+ Because the travel distance between the two district is 37 miles – taking about 40 minutes of travel time – practice schedule agreements will be modified
Approve response to Windom Area Public School (WAPS) School Board letter
The final action on the agenda was the approval of a letter responding to correspondence sent to the MLPS School Board by the WAPS School Board.