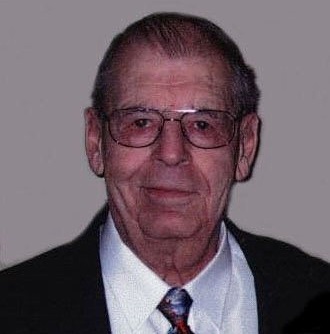 Funeral services for 88-year-old John M. Klaassen of Mountain Lake, Minnesota, will be held at 1 p.m. on Wednesday afternoon, August 9, 2017, at Lakeview Gospel Church in Mountain Lake with Pastor Merwin Dick officiating. The church is located at 1002 10th Street North.
Interment will be in Mountain Lake City Cemetery, located on 10th Street North at Midway Road.
Visitation will be Tuesday, August 8, 2017, at Sturm Funeral Home-Mountain Lake Chapel, from 5 p.m. to 7 p.m. The funeral home is located at 420 10th Street North. A second visitation will be held at the church the day of the service from 12 p.m. to 1 p.m.
Online condolences to the family may be sent to: www.sturmfh.com.
Sturm Funeral Home-Mountain Lake Chapel is handling the arrangements.
John Klaassen passed away on Thursday, August 3, 2017 at Sanford USD Medical Center in Sioux Falls, South Dakota.
John M. Klaassen was born to the late John P. and Margaret Klaassen on October 17, 1928 in Mountain Lake. The oldest of two children, he attended public country schools in Cottonwood County and graduated from Mountain Lake High School in 1947. At a young age, he professed his faith in Jesus Christ, and was a member of Lakeview Gospel Church in Mountain Lake.
John worked on the family farm in Mountain Lake for 15 years. He distributed Marigold milk for many years, as well as worked as Maintenance Supervisor at Scherr-Tumico in St. James, Minnesota. He helped build the Denver Airport when working for Lorentz Construction.
John married Lillian Buhler, his high school classmate, in August 1949. Their union was blessed with four children. John's hobbies include playing the electric guitar, singing in various choirs, and creating horse drawn farm equipment rigs.
John acquired Guillain-Barré when he was in his early 40s. Guillain-Garré is a rare disorder in which the immune system attacks the nerves; in his case, his legs.
Survivors include daughter, Linda (Mitch) of Sioux Falls; son, Charlie (Rhonda) of Brooklyn, Iowa; son, Arlie of Mountain Lake and daughter, Laura (Chuck) of Tucson, Arizona; six grandchildren; 10 great-children and a host of devoted nieces, nephews, cousins and friends.
John was preceded in death by his parents; wife, Lillian, and sister, Marjorie.