Next appearance scheduled for Tuesday, August 29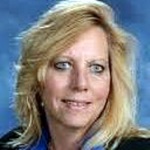 Following the initial appearance of former Butterfield-Odin Public School (B-OPS) Superintendent Lisa Shellum in Watonwan County District Court earlier in July, her next day in court will be for an omnibus (pretrial) hearing, scheduled for Tuesday, August 29, at 9 a.m. The purpose of an omnibus hearing is to determine the evidence, including testimony and evidence seized at the time of arrest. Shellum is accused of stealing from the school district.
The criminal complaint alleges that Shellum falsified documents while serving B-OPS, collecting $1,392.32 from the district by recording mileages on her travel log during days she was on leave of absence or on "no school" days.
The Watonwan County Sheriff's Office first learned of possible wrongdoing in December 2016 when former B-OPS Interim Superintendent Allen Stoeckman presented a report to investigator Mark Slater.
It was as early as 2014 that the school district began questioning mileage reimbursements, the complaint alleges. It was noted that forms were not detailed and lacked the necessary date, mileage and reason for the request.
Shellum also received $1,050 a month as a monthly mileage stipend.
It is also alleged, according to the complaint, that on August 14, 2015, Shellum submitted a mileage reimbursement form indicating that on July 24, 2015, she had traveled from St. James to Minneapolis to attend an attorney meeting, at a time of increasing discord between the school district and Shellum. She was paid $143.75 for the trip (250 miles with a per mile rate of 57.5 cents). However, no meeting has ever held, according to Kevin Rupp, former attorney for the district.
In addition, Shellum is accused of requesting mileage reimbursements for IEP (Individualized Education Plan) meetings she did not attend. This includes meetings (September 25, November 13, November 14 and December 2, 2014; as well as January 7, January 22 and April 8, 2015) held for district students attending the Red Rock Ridge Area Learning Center (ALC) in Windom. Shellum requested mileage totaling $146.77. However, according to Ann Wendorff of the ALC, the last meeting Shellum attended was in 2013. The ALC has no record or memory of Shellum attending IEP meetings on any of the listed dates.
No bail conditions were set for Shellum, but she was required to sign a booking order with the sheriff's office.
If convicted on the highest count – Theft-By Swindle – Shellum could face up to five years in prison, a $10,000 fine, or both.