Adjusts meeting start time in attempt coordinate with Mountain Lake City Council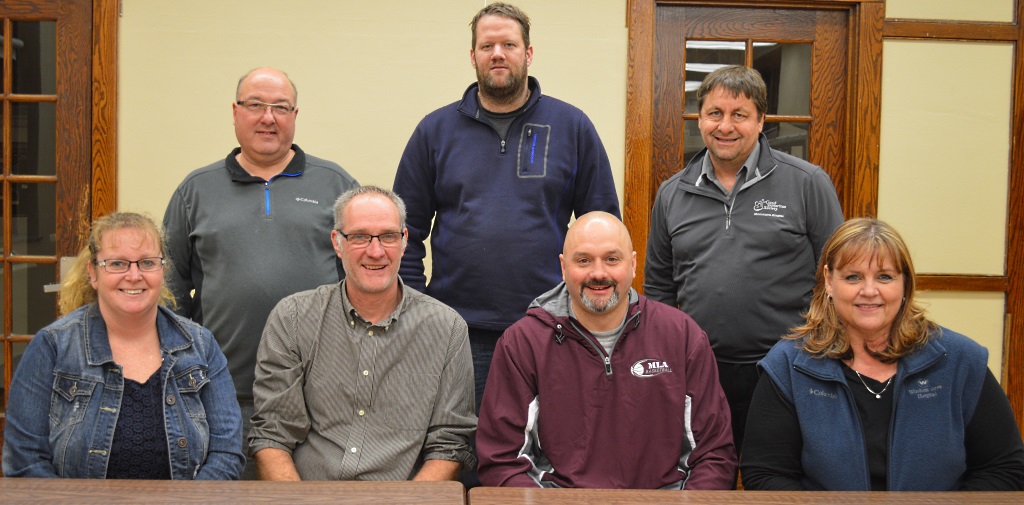 The Mountain Lake Public School (MLPS) School Board addressed a modified summer 2017 Building Repair list as presented by MLPS Superintendent Bill Strom.
To create the list of projects, Superintendent Strom held conversations with Mountain Lake Public High School (MLHS) Principal Michelle Larson, Mountain Lake Public Elementary School (MLES) Principal Karl Wassman, Technology Coordinator Jon Harder, Building and Grounds/Maintenance Supervisor John Carrison and other building personnel. Budgets, repairs and needs were included in the discussions.
In past years, school personnel, principals, technology and building personnel would submit proposals to Strom, and he would manage the budgets and repairs as he saw fit. At times he would approve many of the projects, some of the projects or few of the projects. Some of these projects would be funded with Long-Term Facilities Maintenance (LTFM) revenue, and some funded with non-LTFM revenue.
Concern had been raised about building remodeling/repair projects merged into – or separated from – current building referendum considerations.
Strom's current list of summer remodeling/repairs is topped by the need to enlarge the kindergarten room of Kelli Tucholke in order to create a same-size space as the elementary's original kindergarten room of teacher Nicole James. This means modificaton of the kindergarten/current first-grade wall at a cost estimate of $30,000 to $45,000. The first-grade classroom of Stacey Stade would be relocated.
The room remodeling was deemed necessary following the annual kindergarten round-up event held Wednesday, April 5 that resulted in a total number of 44 to 46 prospective students for the 2017-2018 school year. MLPS Superintendent Bill Strom noted that his could possibly be the largest kindergarten class in 20 years. The current room of Tucholke is undersized, and the lack of adequate space is the reason for the remodeling.
Additional summer projects could include:.
Technology infrastructure repairs ($23,000).
Classroom desks (25) for Third Grade ($5,000 per classroom).
Entrance doors at the end of the sixth-grade hallway ($9,000).
Six bathroom partitions for the girls elementary, cafeteria and auditorium bathrooms ($16,000).
Board members gave approval to Strom to complete up to $187,000 in summer projects, including those listed. The funds used will come from voter-approved LTFM funds – $32,051.17 remaining from Fiscal Year 2017 and $155,519 available for Fiscal Year 2018 (July 1, 2017 to June 30, 2018). Voters approved a 10-year LTFM budget of $1.8 million in 2015.
It was learned that Lunch Fund Reserves could be used to complete kitchen improvement projects – dishwashing room drain rebuild ($2,000-$4,000), removing tile from the office Taher Food Service Coordinator Tammy Wolle ($1,300) and kitchen epoxy flooring ($17,000). The Lunch Fund has a balance of approximately $80,000.
Tentative plans made to change meeting start time
In a compromise proposal, board members approved changing the regular meeting time of school board meetings, held on the third Monday of each month, from 6 p.m. to 5:30 p.m., contingent on a time adjustment by the Mountain Lake City Council (which meets the first and third Mondays of each month) of its meeting time on the third Monday of the month from 6:30 p.m. to 7 p.m.
MLPS School Board Chair Chad Pedersen and Superintendent Strom attended a Mountain Lake City Council meeting on Monday, April 3 to discuss and foster current and ongoing dialogue between the city council and school district. Topics addressed included finding common ground, working together, communications, taxation rates, taxing capacity, holding joint meetings, adjusting meeting times/dates so that representatives from each group can attend the others' meetings, utility costs, building projects, priorities, seeking approval for a city council member to attend MLPS Building Committee meetings, etc.
In other business
+ Tabled approving a Mountain Lake City Council member to serve as a member or non-voting liaison of the MLPS Building Committee until after the committee can address the issue at its next meeting. The school board will take action on the recommendation at its Monday, May 15 meeting. Two Building Committee members – Vern Peterson and Jerry Haberman – are members of the Mountain Lake Economic Development Authority (EDA).
+ Approved the hiring of Shawn Naas as Summer Recreation Coordinator. Naas has performed these duties, on-and-off, for the past 25 years. Strom was given discretion by the board to set the salary for the position. The rate of pay has been $2,000 for many years.
+ Approved the health insurance bid by Southwest Service Cooperative (Blue Cross/Blue Shield) as the district insurer for a two-year term, with a locked-in 2.5% for the first year. This plan is the same as the current one.
+ Approved the auditor services proposal of Eide Bailey for the 2017-2018 school year.
+ Approved Jason Kruser as a volunteer for the golf program.
+ Approved Olivia Hopwood as a volunteer for the softball program.
+ Approved open enrollments, all into the district, including five from Windom School District #177 and one from St. James School District #840.
+ Approved the hiring of part-time summer workers to help get the buildings and grounds ready for the 2017-2018 school year. The rate of pay is $9.60 per hour. The list of workers incudes Linda Nesmoe, Ashley Watkins, Lydia Wallert, Michael Watkins, Jeff Wright, Austin Wallert, Adam Watkins, Brett Willaby and Ryan Blomgren. Substitutes include Jared Willaby and Dima Hanson.
+ Approved minor changes to the school district policies – employee-student relationships; search of student lockers, desks, personal possessions and student's person; student attendance; student disability nondiscrimination; mandatory summer school instruction and modification of the school district budget.
+ Heard from MLPS Board Clerk Julie Brugman during Open Forum. Brugman brought forward information from Walter Oeltjenbruns on the possibility of placing a memorial bench in honor of the late Stanley "Stan The Man" Schroeder at the baseball field.
+ Received the following information over the course of the past month from MLPS Superintendent Bill Strom:
The Mountain Lake Education Association (MLEA) has sent notice of their desire to begin negotiations with the school district.
Paul Youngquist, architect with Architects Rego + Younquist (ARY), has requested a meeting with school administrators (superintendent, high school principal and elementary principal) to discuss administrative analysis of the Building Committee's plans. That meeting will be Friday morning, April 21. John Carrison, Building and Grounds Maintenance Supervisor, is also invited to attend.
For the past several months, Strom has been working on a list of projects related to the building with particular attention on two projects that might fall under LTFM – moving the Food Lab from the third floor of the 1940 building closer to the 1972 addition and replacing the red seats in the auditorium. He has met with consultant Rod Schumacher of ISG Architecture, Engineering and Environmental Planning of Mankato in order to create a LTFM project list.
The MLPS Building Committee meeting has been postponed until Wednesday, April 26, at 6 p.m., in Room #1.
Strom and Carrison communicated with the Minnesota State Fire Marshal (e-mail and phone) concerning the 1904 building on Thursdary, March 30. They questioned the Fire Marshal if there were any pending projects he has on his list to be completed for the structure. He currently does not have any pending directives for the 1904 building; the district is up-to-date with all of his project directives.
Addressed the spring sports pairing agreement for boys baseball, girls softball and boys and girls golf with Comfrey, stating that the use of the diamond facilities in Comfrey has been opened up to "as needed," especially when visitors bring three teams (varsity, junior varsity, junior high) to compete. At the board meeting, Girls Softball Assistant Coach Shawn Naas noted that the pairing for that sport has been going really well, and saluted Comfrey Public School Athletics Director Brian Longerbone for his efforts in maintaining communication and transporting athletes. Pedersen, the head golf coach, echoed the statements from Naas, sharing that he was pleased with the trio of Comfrey students participating in the sport.
Superintendent Strom has met with city officials from Windom concerning swimming lessons for Mountain Lake School District students at the city's outdoor pool. Discussion included pool schedules, Cottonwood County Transit, etc.
Project Invention Summer Science Camp will be held July 10 to 13 for students currently in grades 5-8. The focus will be on science technology and entrepreneurship.
At the regular school board meeting on Monday, March 20, Jay Scheid attended to address matters pertaining to property owned by his father adjacent to the school. Following up on this matter have been MLHS Principal Larson, speaking with physical education teachers who use the school district space next to the Scheid property, along with Jay Scheid. Board Chair Pedersen visited with the property owner on behalf of the Prom Committee to discuss parking and determine if there were any issues related to prom parking. MLPS District Secretary Lois Herrig contacted Brad Hanson, the district's insurance carrier, along with Jay Scheid, concerning the communication with that insurance carrier to discuss options of alleged damage to property. Strom, Larson and Hanson visited with Jay Scheid to discuss the damage to the siding on his house and on a gray van.
+ Received an updated listing of upcoming school board meetings:
Monday, May 15, Regular Meeting, 6 p.m., Room #1.
Monday, June 26, Regular Meeting, 6 p.m., Room #1.
Monday, July 17, Regular Meeting, 6 p.m., Room #1.