Bicycling Around Minnesota visits Mountain Lake, Butterfield on its third leg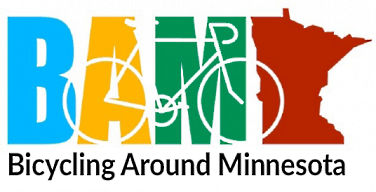 BAM has been on a roll since Thursday, August 18.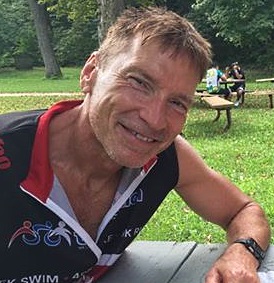 And, on Saturday, August 20, Bicycling Around Minnesota's 275 bicyclists – including local pedaler Mike Nelson – made visits at Heritage Village in Mountain Lake and the Butterfield Threshing Bee at Voss Park in Butterfield on its third of four legs, a route from Springfield to Madelia.
Since 2006, Bicycling Around Minnesota (BAM), a nonprofit organization with a focus on highlighting Minnesota communities to an ever growing bicycling audience, has been offering a four-day bicycle ride covering 60-to-80 miles per day, with overnight stays in four host cities. Although camping is encouraged, a limited number of motel or hotel rooms are generally available as an option. Usually held in August, this ride is aimed at moderate-to-experienced cyclists.
Its first year, BAM held its inaugural ride with 30 participants, who rode from Park Park Rapids to Walker and Longville before returning to Park Rapids.
The concept for BAM came from various individuals and members of the State Bicycling Advisory Committee (SBAC), which is now the Minnesota Non-Motorized Transportation Advisory Committee (SNTC).
BAM riders enjoy rolling over paved, low-traffic roads and bikeways to take in the beauty that abounds in this "Home of 10,000 lakes." Each year the route moves to a different region of Minnesota to promote the wonderful communities in that area..
BAM's goals as a nonprofit are to promote Share the Road, bicycle safety, fitness, state tourism and the Scenic Bikeways System in Minnesota – as well as bicycling as a transportation mode.
Its sponsors include Penn Cycle and Fitness, Minnesota Department of Transportation, Hiway Federal Credit Union, Share the Road and Explore Minnesota.
The BAM 2016 Tour started in Waseca and the loop is taking them through the host communities of New Ulm, Springfield, Madelia – and then back to Waseca.  Along the way, cyclists will take in the summer charm of South Central Minnesota.
+ Wednesday, August 17 – The "convocation" began on Wednesday, with the bicyclists exploring all that the city has to offer.
+ Thursday, August 18 – BAM trekked the 71 miles from Waseca to New Ulm. Along the way, the route took the bikers to the towns of Elysian and Madison Lake in the heart of the Southern Minnesota Lakes Region.  Early in the day, they stopped for a tour of Farm America in Waseca to explore the history of farming over the past 160 years. Then they ventured along portions of the scenic Sakatah Singing Hills State Trail and rode along the Minnesota River, with a stop to view some spectacular waterfalls, and Hanska, before reaching New Ulm. At their evening stay, they toured Schell's Brewery, visited Herman the German and set out on foot to explore this German town on the Minnesota River. The evening meal was at the historic Turner Hall, and featured some great entertainment.
+ Friday, August 19 – Day Two of biking went from New Ulm to Springfield – a 67-mile ride. Leaving New Ulm, they rode along quiet country roads as they made their way to Jeffers Petroglyphs, a national historic site where there are Sioux Quartzite rock outcroppings featuring 5,000 American Indian rock carvings in a native prairie setting. A visit to a Norwegian log home and it was off to Springfield, the host town for the evening.
+ Saturday, August 10 – Sixty-four miles was covered by the BAM riders, riding from Springfield to Madelia – and included two area visits. The first stop was at Mountain Lake for a tour of Heritage Village, depicting the life and times of Russian-Mennonite and German-Lutheran immigrants that were early settlers in the area. They strolled through the 21 buildings filled with displays depicting pioneer life, including the Minnesota Hall of Fame Telephone Museum, which provides a rare look at the progress of the telegraph and telephone through the history of local telecommunications. From Mountain Lake, it was forward on to Butterfield where the 50th anniversary of the Butterfield Threshing Bee was in full swing. The bicyclists were able to watch live threshing, woodworking and quilting demonstrations, to name a few.  They enjoyed live music and watched the tractor parade while refueling on pie or other local fare. When they were "Threshing Bee'd" out, they headed on out to Madelia, the Saturday night host town.
+ Sunday, August 21 – The final leg of the jaunt will take BAM bicyclists from Madelia to Waseca, a ride of 65 miles. That leg will have them pedaling along river valleys en route to their refueling stop, which includes pie in about any flavor imaginable! When they are back on their bikes, the group will have the opportunity to take in beautiful South Central Minnesota scenery before arriving at the finish – where they also began – in Waseca.
Mountain Lake, Butterfield – and Mountain Lake-to-Butterfield – scenery captured by Bicycling Around Minnesota (BAM):