Daylight Saving Time begins Sunday – turn clocks ahead one hour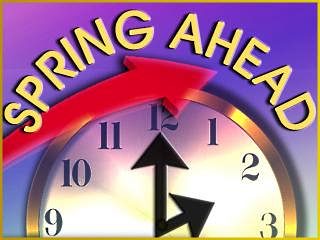 It's that time again. (Sorry my friend, Bob Jass Jr.)
This Sunday, March 13, 2015 will be the start of Daylight Saving Time (DST).
When local standard time is about to tick to 2 a.m. this Sunday, March 13, 2016, turn your clock ahead one hour to 3 a.m. – to change to Daylight Saving Time instead. (Or . . . like Bob . . . leave your clocks alone and do the one hour math in your head whenever you check the time.)
Sunrise and sunset will be about one hour later than the day before, and there will be more light in the evening.
When's the next time change – back to standard time?
The time to fall back one hour is Sunday, November 6, 2016.
This time change is also a great reminder to change the batteries in smoke detectors.