Eliminated on the word 'tatimi'; Shakopee Junior High West student is champ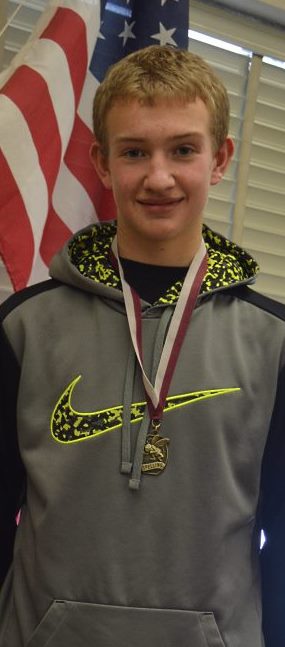 Representing Mountain Lake Public School (MLPS) at the South Central Service Cooperative (SCSC) Regional Spelling Bee, held Tuesday, February 23, in the Conference Center on the campus of South Central College in North Mankato was Mountain Lake Public High School eighth-grader Adam Karschnik, son of Kent and Kim Karschnik.
Karschnik advanced to the SCSC Regional Bee after winning the MLPS Spelling Bee for grades five-through-eight on Thursday, January 21.
At the regional contest, he advanced to the second round, and was eliminated by the word tatimi. (Tatimi is a type of mat used as a flooring material in traditional Japanese-style rooms. The mats have traditionally been made using rice straw to form the core, however, the cores of contemporary tatimi are sometimes composed of compressed wood chip boards or polystyrene foam.)
Winning the 2016 Bee – and the right to advance to the Scripps National Spelling Bee in Washington, D. C., held the last week of May, representing the SCSC – was Elise Weier of Shakopee Junior High West. Finishing second was Emily Spieker of Dakota Meads Middle School in Mankato. Lexi Fosburgh of Mount Olive Lutheran Church in Mankato was third and in fourth was Emily Sullivan of Le Sueur-Henderson Middle School.
The SCSC sponsors the Spelling Bee for the South-Central Region of Minnesota. Counties covered by this event include both Cottonwood and Watonwan Counties, along with Blue Earth, Brow, Faribault, Le Sueur, Martin, Nicollet, Sibley and Waseca Counties.
The Scripp's National Spelling Bee is the nation's largest and longest-running educational promotion, administered on a not-for-profit basis by The E. W. Scripps Company, along with local spelling bee sponsors in the United States, American Samoa, Guam, Puerto Rico, the United States Virgin Islands, and Department of Defense Schools in Europe; also, the Bahamas, Canada, Ghana, Jamaica, Japan and South Korea
The purpose of the series of Spelling Bees is to help students improve their spelling, increase their vocabularies, learn concepts, and develop correct English usage that will help them all their lives.