Old adage not reliable in nature; but is one Michelle Majerus maintains is true when facing life's trials 
The darkest hour is just before the dawn.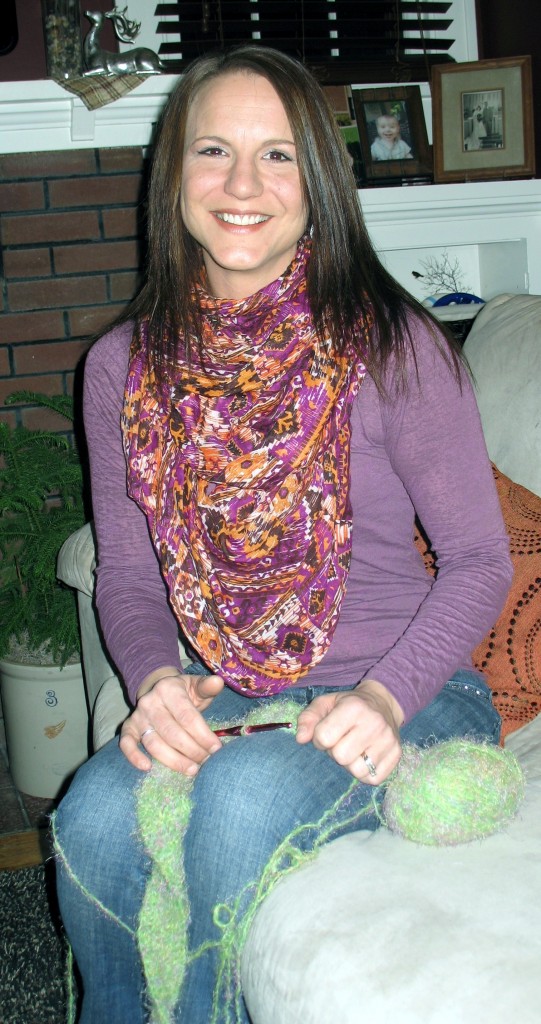 That old adage is not always reliable when talking about the night, twilight and sunrise found in a natural day.
However, Michelle Majerus, 34, of Mountain Lake maintains the axiom does ring true when facing life's trials – that hope can be found in even the darkest of circumstances – illustrating how the healing process actually works in presenting people with a new beginning.
At rock bottom
"Hitting rock bottom, that's where I was at," shares Michelle about those bleak days from last June.
"For nearly half my life I have struggled with addiction; specifically, alcoholism. Sadly, this addiction eventually took everything from me – financially, socially, medically, emotionally and spiritually."
The summer of 2012 is one Michelle says she would rather forget; one that would never have happened. But, without what occurred on a hot summer night in June – and the eventual road to recovery she chose to take – the course of her life could have ended differently, even tragically.
"By then, my drinking was completely out of control," states Michelle, reflecting back six months in time. "Yet, somehow – I do not know how – I managed to function at work and at home. (Or at least what I thought at the time was functioning.)
"What I did not realize was that I was losing my family, my connection to the outside world – and because of that – myself."
Telling her alcohol addiction story, Michelle laid out that she was not a morning drinker – or even a regular everyday drinker. "Because of this, I justified – in my mind – that it was okay if I did have an occasional drink; at least what started out that way. Wine and beer were my vices. I'd open up and drink a bottle of wine, then another bottle. Then it would be a six-pack of beer, and on and on.
"I drank to relax, to deal with life and my feelings off insecurity and anxiety. I drank because I didn't want to feel. If things in life were going bad, I drank to try to make myself feel better. If there were good time, I'd drink to celebrate. Oh yeah, I had many excuses for having that drink. But it wasn't until the events of June 20, 2013 that the proverbial 'rock bottom' was hit and I realized I needed help."
Before that moment came, however, it was preceded by a long, dark night that ended the following morning with Michelle facing legal consequences – and the loss of everything of importance in her life – including her family, her freedom and her job.
Necessity of working the program
The thing was, this was not the first time Michelle had to deal with her drinking demons. "In June 2010, I admitted myself to New Life Treatment Center in Woodstock, Minnesota for a 30-day in-patient program. I completed it successfully and maintained sobriety for two years, three months.
"So what happened? Why did I go back to  drinking after putting in such a long and successful stint of sobriety? In short," explains Michelle, "I stopped working my program – the 12 Steps of Recovery that is the basis of Alcoholics Anonymous (AA). I stopped attending AA meetings. I isolated myself from my support systems. I closed the door on my faith. I tried to stay sober all on my own."
As Michelle lays out, "All of these are signs of relapse. Actually, at that point, taking that first drink is really the LAST sign of relapse – and not the first." Relapse is a process, and when you remove everything that is in place that is supposed to help you – relapse has an increased chance to occur.
"Fortunately, I decided to make a change in order to take it all back," declares Michelle. "Alcoholism is incurable. Even when we abstain, the disease still progresses.  Even after all the months I had not been drinking – I still ended up back drinking – and did so for eight looonnng months."
At  that point – her blackest hour – Michelle once again picked up her faith, contacted her sponsor and her church. "They were so gracious; they listened to me and directed my actions. Desperate, I once again admitted myself to New Life – and inwardly, quietly prayed that this was going to be it. That this was going to be the last time. No one WANTS to be sick – and I surely did not want to be an alcoholic.
"After counseling and time, the realization did hit me that an alcoholic was what I am, and that I had better start making different choices in my life. When it comes right down to it, we all select our path, make our choice; and I knew I wanted a different way, a positive way for my family and myself."
Michelle insists she will not use her addiction as an excuse for her behavior, and adds, "There is help and treatment available – but that is the personal choice to be made. In the end, I was tired of feeling like 'crap' mentally, not knowing or remembering what I had done when was drunk. It might sound funny, but in some ways, I am grateful for what was the end result of my actions on that night."
One day at a time
Michelle successfully completed her second in-patient treatment this past summer and returned home – home to a family that unconditionally loves her and has stood by her, as well as home to her church. In each case, she was welcomed with open arms. "My husband of a little more thaln eight years , Eric, is my rock. For all that I have put him through, he is my strongest supporter. He chose to stick with me through this. Even as I want to stay sober for myself, my respect for Eric for hanging in there with me is an added impetus to want that even more."
Michelle states, though, that the day she returned home from the treatment center was both. "The best – as well as the scariest – day of my life. I was not under the protective wing of the treatment center any more – I was back out in the real world. And I wasn't sure how my family, friends or others would react."
She returned home with many questions on her mind: "What if I relapse?" "What if this doesn't work?"
To find the answers to those questions, Michelle shares that, "My focus is on what the AA program teaches – taking one day at a time. If you make the promise you will NEVER drink again, you are setting yourself up for failure. Your eye has to be on the idea that, 'I won't drink today.'"
By taking those 24 hours a baby step one at a time, Michelle has maintained sobriety for six months. She knows that her drinking is just a symptom, an indication of an addictive personality she has to deal with on a daily basis. She has taken accountability for her actions. She addresses situations when they occur in order to solve them.
"I am now finding joy in things I never thought possible – and laugh like I have never done before,"  an enthused Michelle expresses with punctuated words and a huge smiled. She shared her testimony at her church and was re-baptized in October 2013. Over the intervening months, she has participated in several Bible studies and was able to stay at home until November when she began a new job. She attends AA meetings weekly and maintains contact with a sponsor who is also in recovery.
The two together share their experiences and combine their strengths and hopes to get through the things in life that used to baffle them before. They work their steps. "We laugh. We cry. We drink a lot of coffee. Most of all, she keeps me accountable," Michelle testifies. "We are just like anybody and everybody – we are perfectly imperfect people who happen to share the same problem.
"Sharing – this is one thing that helps keeps me sober. In order to keep what we have, we have to give it away. I share my story whenever possible, so as to give hope to another struggling person. I speak at treatment centers and meetings to keep that idea of hope alive – showing first-hand that recovery is possible. We don't have to live in our past; our sum total is not in our mistakes. We CAN move forward – positively. Today I take nothing for granted. I try to live a life of gratitude. The key component to my recovery is my spirituality. Christ is my foundation on which everything is built; I live my life for Him. Without Him at the center – everything crumbles. Six months ago, there was no way I thought I would be where I am at today. I work a spiritual program and because I do, I have serenity. Life is simpler. I have the tools to get me through tough situations – and most importantly – I have have the support of friends and family who love me unconditionally. For that, I am grateful. Recovery is possible. It is a gift from God that I have been given and will continue to share with others."
(The local Alcoholics Anonymous meets every Saturday at 7 p.m. at the Trinity Lutheran Church, located at 1418 2nd Avenue  in Mountain Lake.)